$SPY #ES_F $ES_F - Daily Chart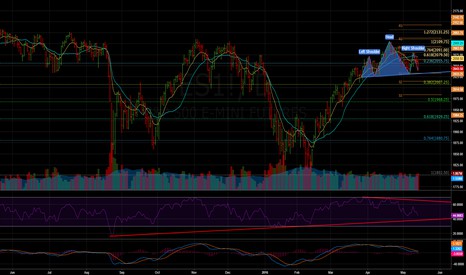 ES at S1 and close to completing a H&S. The 10ema has crossed over the 20VWMA and both falling. Par SAR0.00%% sell and VSS are both intact with volume rising, which is bearish . Massive outflows for last 14 of 15 weeks; however, we saw positive inflows through Thursday.

If I were using candles, you would see a shooting star at the top of the weekly, similar to the one in December and typically mark reversals.

What's interesting here, RSI shows a bullish divergence with the Feb price low, making a higher low in relative strength . Furthermore, we see a small bear divergence in recent price action with Apr 1 putting in the RSI high, then a lower high with Px0.00%% climbing.

IMO, this points to short term weakness with the potential for long term trend to continue higher. That said, Macd doesn't paint the same picture. Lower highs and lows with bearish divergence from Px0.00%% . Triangle forming.

As I mentioned, Option flow leaned bearish . I saw very little UOA call buyers. It's possible traders didn't want any long exposure over the weekend. Lots of data this week and Opex should make this very interesting.

I've provided upside trend fib ext targets should we continue up and downside targets from ATH's to the February low. The SPY0.00%% June $190P's are one of the largest OI positions and the ominous 1861 gap still open in ES.