"The end of QE mattered" admits BofAML, adding that "the impact was not replaced by BoJ or ECB dollars." It is this new 'hostile' investment backdrop as liquidity cheer swings to illiquidity fear (and two years of non-stop "pain trades") that has faith in the big three bull beliefs fading fast. October's "pain trade" has been a broad-based rally in all risk assets, but there are a number of factors preventing BofAML getting more bullish now that risk has surged.
As BofAML writes, annualized total returns from the start of QE1 to the end of QE3 on October 29th 2014: stocks 20%, high yield 18%, REITs 31%. Even commodities rose. Since the end of QE3, global stock markets are up 1%, high yield bonds are down 4% and commodities have slumped 34%. In other words, the end of Fed QE mattered and the impact was not replaced by BoJ or ECB dollars.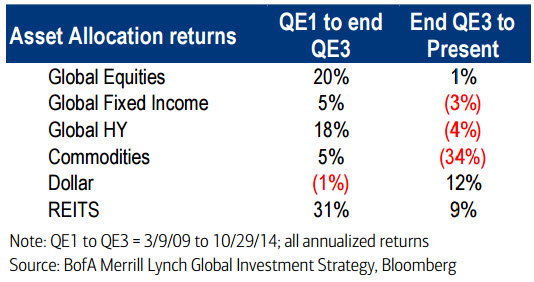 This new hostile investment backdrop... Long positions in assets that were losers under QE (US dollar, volatility, banks) have broadly worked, albeit with the crucial exception of the banks. And short positions in assets that were big winners under QE have been rewarded (e.g. high-yielding fixed income assets such as HY, EM debt, MLP's).
Ironically, while "liquidity" was the bull driver of risk appetite in recent years, in 2015 it is the perception of "illiquidity" in fixed income & equity markets that has become a driver of risk aversion (at a recent client dinner with CIO's managing over $1 trillion in assets the largest complaint was "lack of liquidity"). This perception has been abetted by a non-stop period of "pain trades" (rapid unwinds of crowded positions).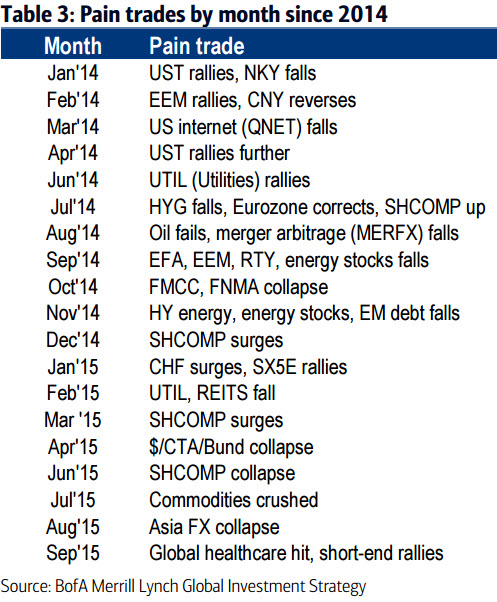 More recently, recession/default fears driven by US$/oil/China/credit has flipped sentiment from cautious optimism to abject pessimism and bullish positions were cut sharply as faith in the big 3 bull beliefs of the past 18 months faded:
That "bad news = good news" allowing investors to "front-run" central banks, adding exposure in anticipation of QE,
That "There Is No Alternative" (TINA) to stocks given the paltry expected returns from fixed income, and
That the US dollar would strengthen driven by the "decoupling" of the US economy & the Fed, thus arguing for "strong dollar plays" over "weak dollar plays".
The October "pain trade" has thus been a big rally in risk assets, as predicted (albeit too early) by all our contrarian trading rules flashing "buy" signals in early-Sept. The ECB, the PBoC, US tech EPS and the fact that too many were positioned for the "event", the recession, the default, the plunge below the 50 boom-bust line in the world's PMI, all have caused a big squeeze in risk assets in particular S&P 500 back through its key resistance level of 2060.
So new highs then, eh?
Nope! As we noted previously, here is the three part answer to "what prevents us BofA from getting more bullish now that risk has rallied":
First, positioning is not bearish enough to generate new highs in risk assets and sustain new highs. Cash levels jumped in recent months but clients never went UW equities (although there were significant outflows from High Yield funds, in excess of 5% of AUM in recent weeks). And the consensus never made recession the base case. In addition, as noted in our latest Flow Show (link), a number of our Trading Rules are flipping from "buy" to "neutral". The Global Breadth Rule, the EM Flow Trading Rule & the Global Flow Trading Rule have turned neutral in the past week, and while the FMS Cash Rule & the Bull & Bear Index reveal high cash and bearish cross-asset sentiment, both have turned in a less bearish direction (see page 8).

 

Second, policy. The Quantitative Failure narrative failed this week. The ECB's promise of QE2 in December was met by a lower Euro, lower bond yields and higher bank stocks. Quantitative Failure requires a lower currency, lower bond yields and lower bank stocks, thus signaling investor revolt against the ability of central banks to raise growth expectations. (Note true QE-apocalypse would be higher bond yields and lower bank stocks).

 

However, the old script of "I'm so Bearish, I'm Bullish", a script that worked like a charm between QE1 and the end of QE3, no longer cuts it. Investors will no longer be satisfied simply by Quantitative Easing. They require "Quantitative Success", and a success that is visible in corporate profits. This risk rally cannot be sustained if Fed hikes and/or ECB/BoJ/PBoC easing causes the US dollar to rally strongly, thus setting off another "death spiral" in EM/commodities/energy/HY and fresh round of EPS downgrades.

 

Third, profits. The growth of global EPS is currently negative. And the level of global EPS is down 4.2% from its February 2015 highs. The classic strong "year-end" rally in stocks & credit requires EPS expectations to rise. Without EPS upside, Q4 risk gains will prove transitory.
BofA's conclusion, and why new all time highs are problematic here:
As explained above, new highs thus require:

The Fed to hike, without…
The dollar rallying significantly because…
European/Japanese/Chinese domestic demand surprise on the upside.

That's a tough ask.