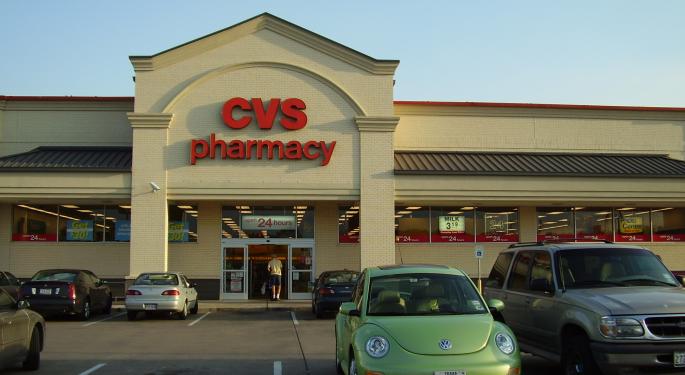 A day after CVS Health Corp NYSECVS offered downbeat forecasts for the fourth quarter and fiscal year 2017, Argus found three reasons behind these guides and subsequently reduced its target price from $120 to $85 while retaining the Buy rating.
The price target implies an upside potential of more than 10 percent, significant following the 11.8 percent hammering the stock undertook on the back of tepid outlook Tuesday.
Why The Lackluster Guides?
Analyst Chris Graja cited the following three reasons for the pharmacy's weak forecast:
CVS is set to lose about 40 million scripts resulting in a drop of EBIT in 2017.
Lower accretion expected from Target Corporation TGT 0.81% pharmacy and the Omnicare acquisitions. The company sees $0.09 a share lower than CVS initially estimated. Though the integration of these acquisitions is ongoing, the tangible benefits are taking longer than expected to materialize.
Erosion of gross margin is seen from lower rates of reimbursement apart from mix in business.
Argus' Bottom Line
The brokerage said in a research note, "Despite intense competition, we believe that the company's integrated model, which includes the CVS retail pharmacies, the Caremark PBM, a growing Specialty pharmacy business, pharmacies within Target Stores, and MinuteClinic, is the right structure to deliver cost savings, better care, and attractive shareholder returns."
Argus is encouraged by CVS efforts to sharpen its capabilities to offer more services for an expanded customer base. The firm sees more proof of proprietary technology and clinical programs that improve CVS's position as a heathcare partner. The brokerage is confident that the company could deliver incremental gains with the help of customer interactions.
At last check, CVS was up 2.37 percent at $75.27.
Image Credit: By WhisperToMe at English Wikipedia [Public domain], via Wikimedia Commons
Date
Firm
Action
From
To
Oct 2016
UBS
Initiates Coverage on
Buy
Oct 2016
Bank of America
Maintains
Buy
Oct 2016
Baird
Maintains
Outperform
© 2016 Benzinga.com. Benzinga does not provide investment advice. All rights reserved.