In a shocking move Monday, Google decided to restructure and appoint a parent company, which they have named Alphabet. The founders of Google, Larry Page and Sergey Brin, will be the CEO and President, respectively, while Sundar Pichai will take over as CEO of Google. So what does it all mean??
Alphabet will work as the functioning parent company for such Google spin-offs such as Google contact lenses, Google x Lab, Google Ventures, and Google Capital.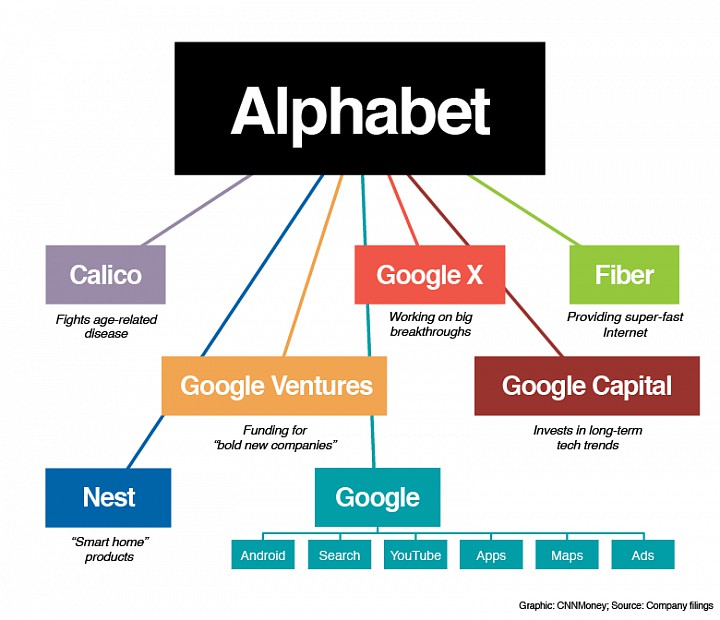 These companies, in short, will have more freedom to invest, take risks, and work on pushing the envelope in the research and development areas. This is a formula that has worked well for Google before. For now, Alphabet will continue to be found on the exchange listed as GOOGL, Tech30, GOOG. There's a sneak peek that investors can enjoy via the still under construction site: abc.xyz When asked about the move, Page said the following:
We've long believed that over time companies tend to get comfortable doing the same thing, just making incremental changes. But in the technology industry, where revolutionary ideas drive the next big growth areas, you need to be a bit uncomfortable to stay relevant.
Our company is operating well today, but we think we can make it cleaner and more accountable. So we are creating a new company, called Alphabet. I am really excited to be running Alphabet as CEO with help from my capable partner, Sergey, as President.
Sergey and I are seriously in the business of starting new things. Alphabet will also include our X lab, which incubates new efforts like Wing, our drone delivery effort. We are also stoked about growing our investment arms, Ventures and Capital, as part of this new structure.
Alphabet Inc. will replace Google Inc. as the publicly-traded entity and all shares of Google will automatically convert into the same number of shares of Alphabet, with all of the same rights. Google will become a wholly-owned subsidiary of Alphabet. Our two classes of shares will continue to trade on Nasdaq as GOOGL and GOOG.
For those in the know, the name Alphabet is more than just a cute catchall phrase. An alpha is the pot of gold that professional investors and managers salivate for because it indicates excess risk adjusted performance. There are those that are suggesting that the Google restructuring seems to have taken a page out of Warren Buffet's voluminous personal diary in that both companies are enjoying some unique privileges. One such privilege is that there are mutual funds that include private companies in the portfolios. So, the big question is: Should mutual fund rules and the very important accounting rules be redefined to include these sorts of restructuring entities? Right now, both Alphabet and Berkshire Hathaway (Buffet's holding) don't have a daily net asset value calculation, as well as other requirements that are generally required of other firms. Which leads to the next big question: Is Alphabet a company, or a fund? Or both?
Alphabet Soup
The name Alphabet is ubiquitous on the market, ranging from small businesses, to midsized corporations, and even internationally the name has upset many. BMW, who owns the domain, alphabet.com, does not plan to sell it. Interestingly enough, their website was so inundated by visitors on Monday and Tuesday that they were overwhelmed. BMW is currently investigating whether or not any sort of copyright or trademark infringement might be levied against the new company. Closer to home, a NY company called Alphabet Funds, hedge funds group, calls the move by Google founders, catastrophic. For investors, however, it may spell CASH, and with Google's year-end earnings projected to be in excess of 100 billion dollars, that's a BET that wins every time.