Back in September 2010, Petrobras conducted what was then the largest share sale (to date) in history, when US$72.8 billion worth of shares in the company were sold on the BM&F Bovespa stock exchange. Upon its IPO, Petrobras became the fourth-largest company in the world by market capitalisation. Those days are long gone now, and following the triple whammy of a Brazilian economy in tatters coupled with plunging oil prices and an unprecedented corruption scandal, not only is its stock plumbing unseen ultradeep water depths, but Petrobras has rarely been in a worse shape than right now. Which is perhaps why moments ago the CEO of the semi-national company - which was the largest in Latin America by revenue as recently as 2011 - Maria das Graças Foster, "resigned" according to a filing with Brazil's securities regulator.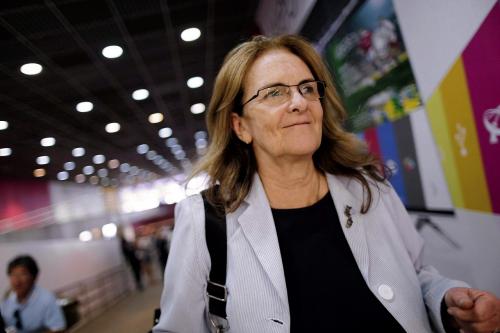 The WSJ had some more on the pre-story last night:
The chief executive of state-run oil company Petróleo Brasileiro SA is on her way out but will stay on at least until the company's delayed audited third-quarter results are released, likely in a month, according to people familiar with the matter.

 

Chief Executive Maria das Graças Foster has for months been under mounting pressure from investors and opposition politicians to resign from her post amid a widespread corruption scandal.

 

That pressure intensified Tuesday when local media outlets reported that Brazilian President Dilma Rousseff had decided to replace Ms. Foster. Investors cheered the reports, sending Petrobras shares up more than 14% in São Paulo trading.

 

Ms. Foster, 61 years old, has been the CEO since 2012, and has offered her resignation to Ms. Rousseff at least twice. Ms. Foster and Ms. Rousseff met Tuesday at the presidential palace here, but neither addressed the media after the meeting.

 

Ms. Rousseff has backed Ms. Foster since the scandal came to light last March. The president had said that Ms. Foster was pushing changes to improve governance at the company. Petrobras recently set up an internal compliance division to prevent possible future misdeeds.

 

The official said that the government is looking for two new members for the board of directors, but denied reports that Petrobras is looking for a new CEO.

 

Another official close to one of Ms. Rousseff's top aides said that the government is actively looking for a new Petrobras CEO.
According to Brazilian federal investigators Petrobras was at the center of a decadelong kickback scheme in which some of Brazil's largest construction companies and several Petrobras executives colluded to drive up the price of Petrobras contracts and pocket the difference. As a result, three former Petrobras executives have been indicted, the company's credit rating has taken a hit, and its management's ability to weather the storm has been called into question.
Petrobras is working to put a dollar amount on just how much the inflated contracts cost the company, but left off an expected write-down last week when it reported its unaudited third-quarter earnings. Those results were originally due in November, but the company's auditor has refused to sign off on them until Petrobras settles on a write-down.
It got so bad that as Reuters reported last night, Brazil's government actually halted global bond sales due to a widening corruption scandal at state-run oil company Petrobras, a member of President Dilma Rousseff's economic team said on Tuesday. "There's no window [for a foreign debt sale]," the source said on condition of anonymity because of the sensitivity of the government's plans.
Investor confidence in Brazil has been rattled by a growing fiscal deficit, stagnant economy and evidence of a price-fixing, bribery and political kickback scheme at the oil firm known as Petroleo Brasileiro SA.

 

Brazil's last foreign debt sale, in September, was a $1 billion reopened offering of dollar-denominated global bonds due in January 2025.

 

There are no plans yet for meetings between Brazil's economic policymakers and foreign investors, according to the government source. So-called road shows are often scheduled in advance of global bond sales.
Well, Brazil's bond sales can resume because as reported moments ago, the CEO has left the building:
Maria das Graças Foster, chief executive officer of state-run oil company Petroleo Brasileiro SA, and five other senior executives resigned on Wednesday, according to a filing with Brazil's securities regulator.

 

The board of directors of Petrobras, as the company is known, will meet on Friday to elect new senior executives, the statement said.
Now it's just a question of finding willing buyers.