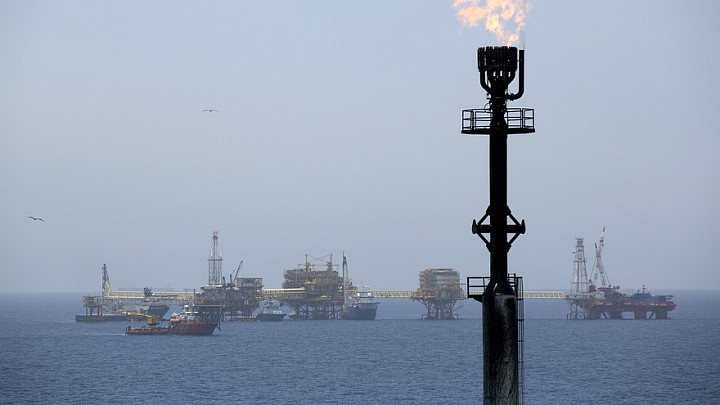 Bloomberg
Gas is flared from a tower on an oil drilling rig operated by Petroleos Mexicans (Pemex) in the Ku-Maloob-Zaap oilfield at Campeche Bay off the coast of Ciudad del Carmen, Mexico

The S&P 500 SPX, +0.51% finished up another unspectacular session yesterday — there hasn't been a move of more than 1% either direction since late March. And the banks, alas, aren't expected to do much to help, it seems.
"We've been arguing that investors might have to wait until the second week of earnings for a catalyst, since the bulk of companies this week are financial, a sector little impacted by investors' concerns (oil and the dollar)," says BTIG's chief strategist Dan Greenhaus.
Another week of this meandering around, then. As Goldman Sachs reminded us recently, energy, consumer staples and industrials will feel the biggest pinch from that oil/dollar hit. Kimberly-Clark and Caterpillar are among the names that will enlighten us to any damages next week.
What was moving yesterday was energy stocks, making up the top 10 performers and tracking a 2% jump in oil prices. BlackRock's Russ Koesterich says integrated oil-company stocks seem to be bottoming, and provided oil stabilizes by the year's end, current prices may represent good long-term value.
That is, if you can navigate the wild ride in crude and the diverging opinions on where prices are headed. Even the IEA this morning was talking of "murkier outlook" on supply and demand impacts.
RBC Capital Markets this morning said it still expects oil prices to recover in the second half of this year and into 2016, helped by a pullback in U.S. rig-count drops, non-OPEC supply growth and global demand. They inched up their Brent forecast to $60 from $57 this year, and called $54 for WTI, from $53. Granted, those aren't huge changes, and it pulled back a little on 2016 forecasts.
But then you've got Citi talking about Brent breaking its $55-$60 trading range to the downside this quarter, and WTI will "buckle below $50/barrel". Is that stabilization? Citi also warns that if we don't see a big rebound soon, ETF holders could ruin it for everyone. Read more in our Call of the Day.
Futures are moving up this morning after some potentially "bad news is good news" from China. Unless the ECB spoils the party.
http://www.marketwatch.com/story/a-one-two-punch-from-hedge-...