When it comes to the record $39 billion buyout spree of U.S.-traded Chinese companies, there has been a lot of talk without much action in the past 12 months.
The debate is heating up now after Alibaba Group Holdings Ltd.-backed companies said last week they'll join a buyout for Momo Inc., raising the odds that the dating app maker will complete a go-private process that had stalled after it began in June. Online video operator Youku Tudou Inc., which was acquired by Alibaba, and budget hotel chain Homeinns Hotel Group were delisted from U.S. last week.
While 40 Chinese companies have received offers to delist from American exchanges over the last year, only seven have completed the process. Opinions about where the trend is headed are split. One school of thought is that the stock market rout in China and increasing policy uncertainty have made a local listing less attractive, causing the U.S. go-private deals to fall apart. The other is that the revival of the bid to take Momo private is a sign of renewed interest among Chinese investors to push similar buyouts forward.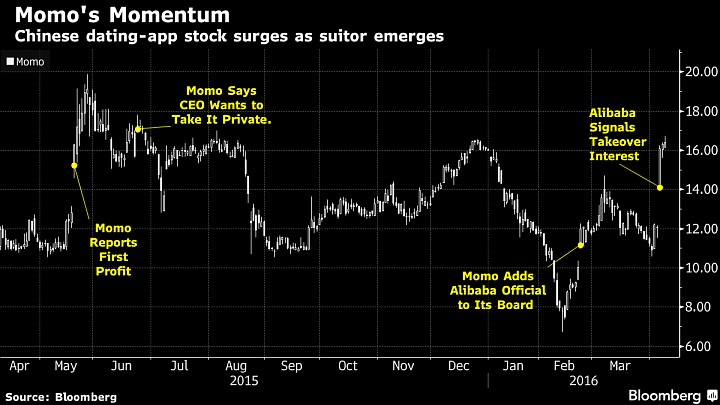 "Despite what may be perceived as headwinds in domestic markets, pending transactions are continuing to make progress," Ryan Roberts, a Hong Kong-based analyst at MCM Partners, said by e-mail. "As long as there is a valuation arbitrage to exploit between the U.S. and China markets, I expect the trade to remain attractive for the founders and owners who can force a deal through. "
The...
More