The daily chart for the stock price of Waste MGMT Inc. (WM) is a bullish one. We can see an uptrend on the daily chart going back to at least the summer of 2015.
WM Daily Chart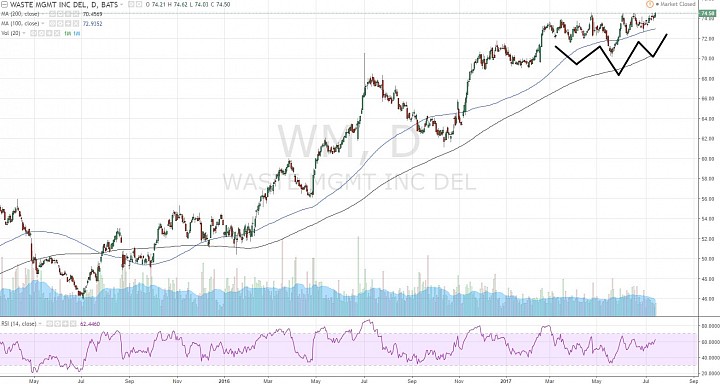 (click to enlarge)

Historic High:
- It should be noted that WM is at its historic highs as it closed the 7/17 session at 74.50.
- This 74.50 area is a critical resistance area for the current consolidation since March.
Price Structure:
- The noted consolidation since March held price mostly above 72.
- But there was a dip to almost 70.
- It looks like an inverted head and shoulders pattern, but is at the top of an uptrend, not bottom of a downtrend.
- In this scenario, the inverted head and shoulder is actually a bullish continuation structure.
- It reflects the dynamic of a bearish correction that failed to continue, suggesting that bulls are ready to continue the prevailing uptrend.