A'twofer' today... The arrogant BTFDiness of Friday's talking heads...
And for everyone else worried about the "containment"...
So 3 big stories today - Equities collapsed... VIX ETFs turmoiled... and Crude Oil crashed...
But before we start - something odd is going on... Simply put - it is very clear now that stocks are moving in lockstep with JPY carry (China forced unwinds) and long-dated TSYs (China selling) have entirely decoupled from the rest of US assets...
We suspect that as Monday's collapse occurred last week it forced "Risk Parity" shops into selling as China's intervention throws ther asimple arbs (equities down, yields down) into a fit - unleashing all sorts of negative feedback loops which are stil underway.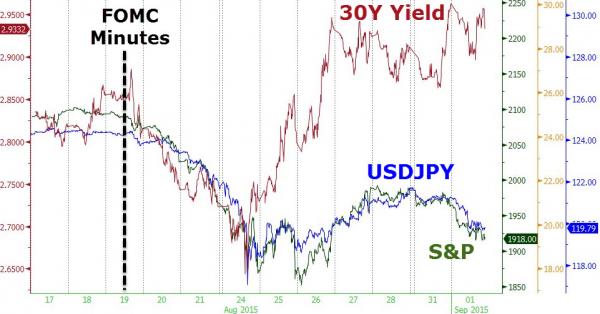 As Volatility relationships 'break'...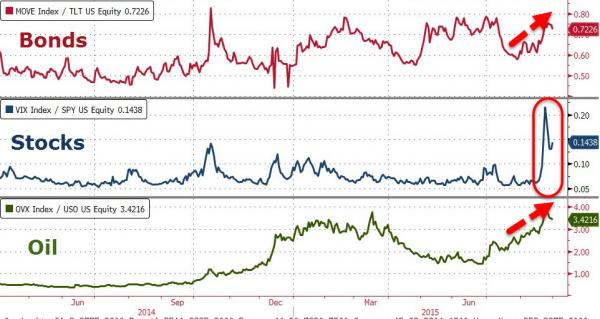 Which summarized simply means - any time you introduce an exogenous signal to a correlation pair, it blows it up and forces derisking. The more leverage on both legs, the more unwinds needed... and the more negative the feedback loop. And this 'correlation pair' game has been going on for 5 years unabated.
*  *  *
This is the worst "first day the month" since Mar 2009 for The Dow
Since Sunday night, things have not been great for stocks with aggreesive US futures selling during the Asia session and weakness towards the US Close...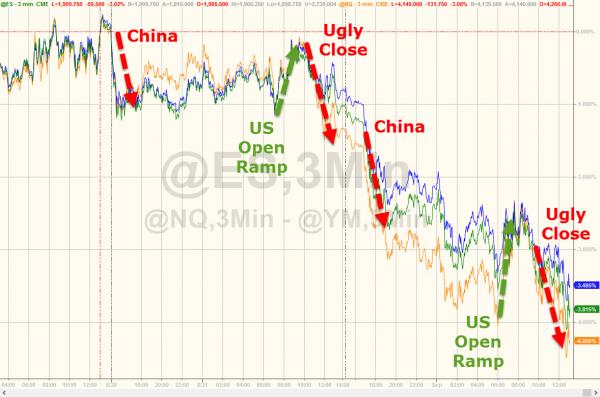 Leaving all major indices notably in the red for the first day of the month...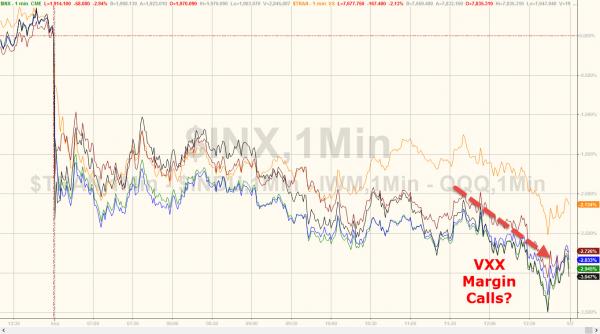 And we use The Dow Futures to illustrate the pull back... Dow was down over 530 points at the lows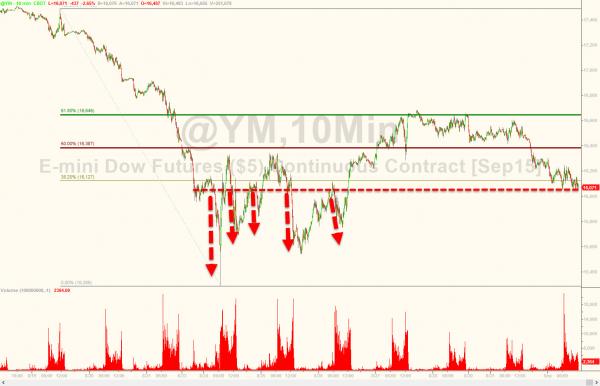 Which has slammed Nasdaq back into the red for 2015 - joining everything else....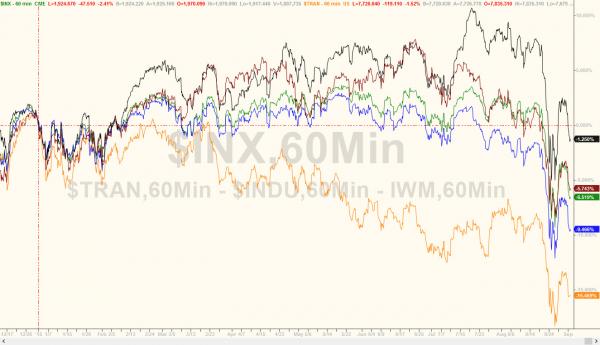 FANG stocks are all sufferring post-FOMC Minutes...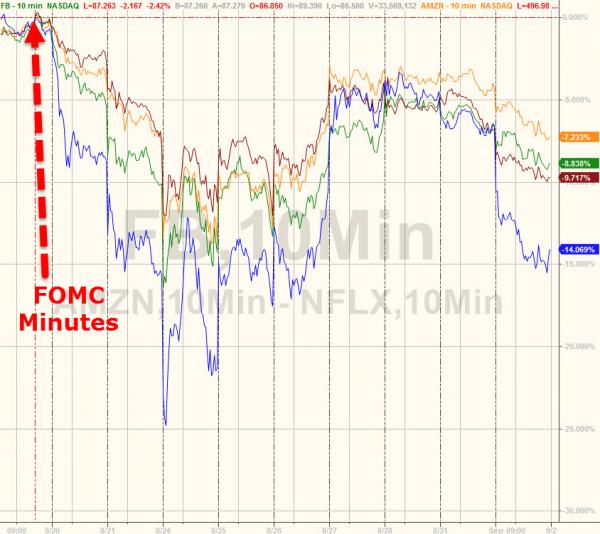 As Financials and Energy were ugly...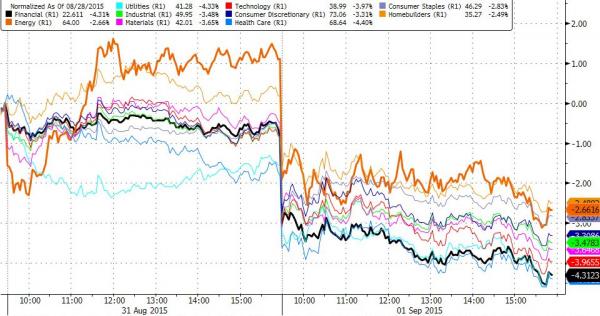 VIX rose over 10% to top 32 as the VIX complex was a mess of short-squeezes and liquidty holes. S&P is catching down to XIV (inverse VIX ETF)...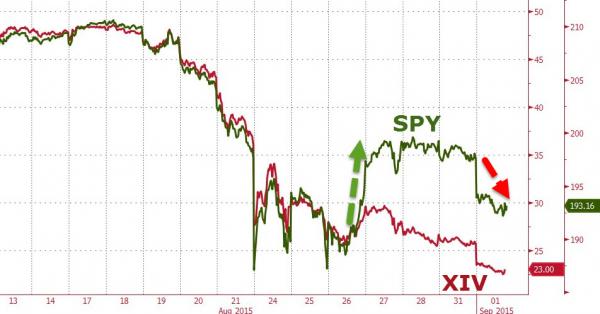 With what looked like VIX ETF margin calls into the close...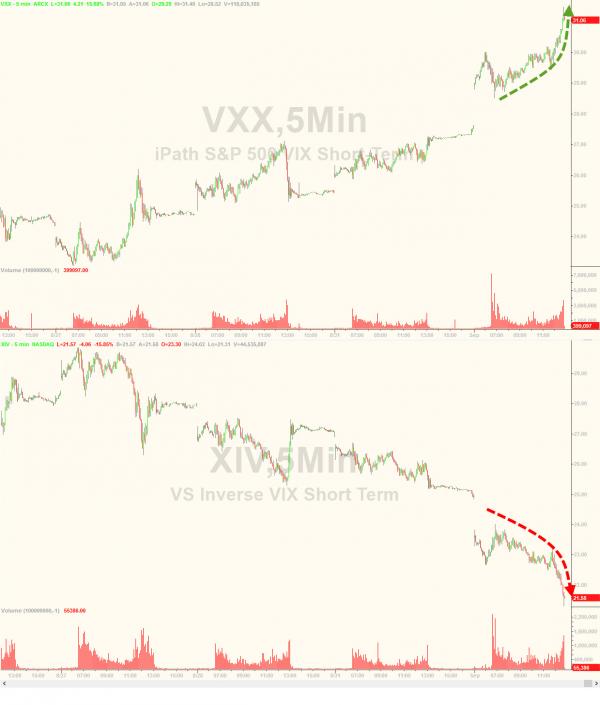 NOTE: After late-day mismacthes were offset - VIX was smashed lower as always to ensure stocks close "off the lows"
Treasury yields were bid through most of Asia and Europe's session then sold off in the US session - despite equity weakness - before a late day rally...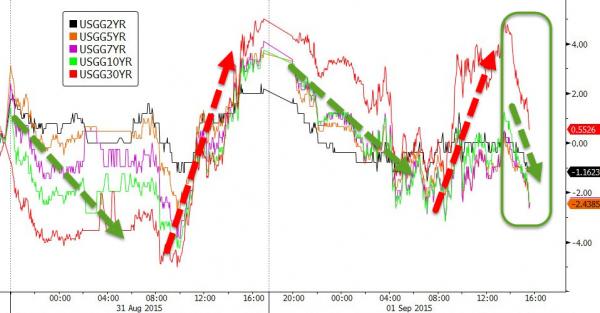 The USDollar Index drifted lower today as AUD plunged and JPY surged...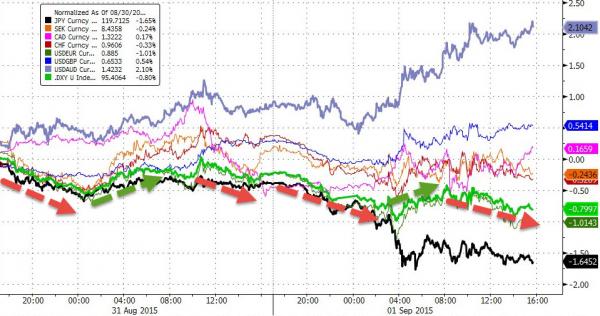 Commodities were a mixed bag with Gold & Silver gaining as cruide and copper were clubbed...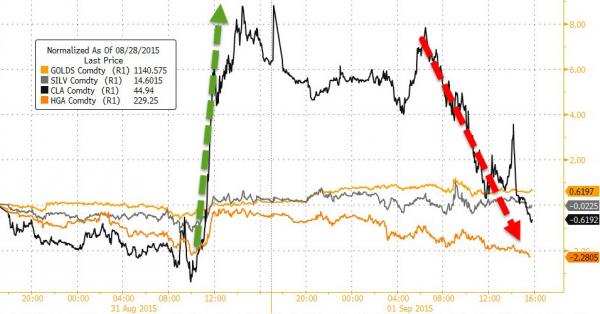 Crude Oil was a catastrophe. After yesterday's epic rtamp squeeze into month-end, today saw a total collapse- the biggest drop since OPEC met late November. Note they tried to ramp it into the NYMEX close but that failed...
*WTI FALLS $1.65 IN LAST 15 MINS. OF TRADING, SETTLES AT $45.41
Then touched a $44 handle...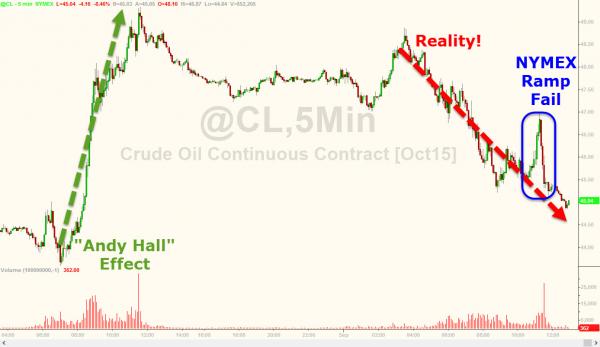 Gold remains the only safe haven for now post-FOMC...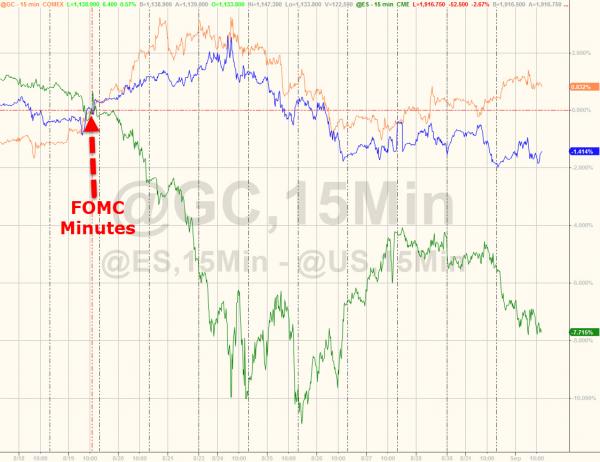 Charts: Bloomberg