What happened
April was another bad month for offshore drilling stocks. Transocean Ltd. (NYSE:RIG), ENSCO Plc. (NYSE:ESV), Diamond Offshore Drilling Inc. (NYSE:DO), Atwood Oceanic Inc. (NYSE:ATW), and Noble Corporation (NYSE:NE) all held up relatively well through the first third of the month, but then start to fall around April 10.
Those declines never really reversed track, with Transocean, ENSCO, and Diamond Offshore shares each ending the month down nearly 12%, Atwood shares off 15%, and Noble Corp down 21%.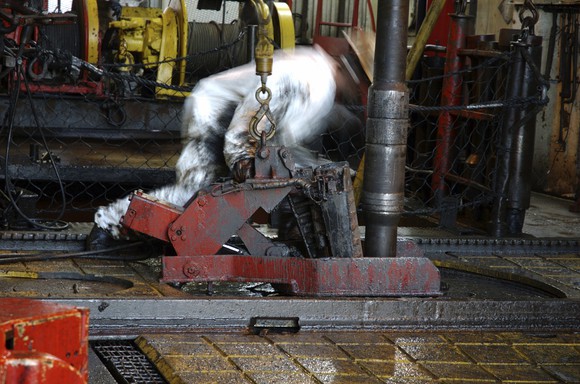 So what
It was also another month of oil news moving this part of the market, rather than much of anything material relating to offshore drillers. As the chart below shows, the big declines started near mid-April, and were largely based on rumblings that crude production gains in North America were offsetting the declines in oil reserves: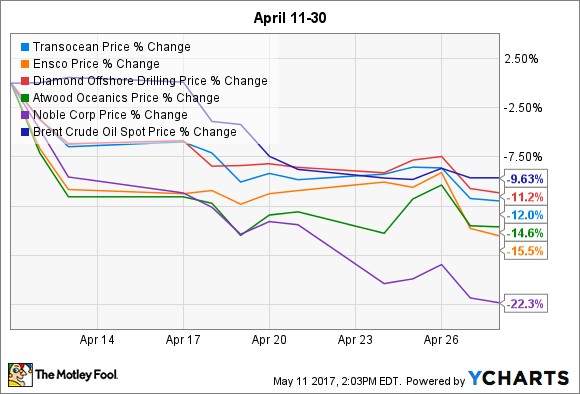 If that sounds familiar, it's because it is. Offshore drilling stocks saw big declines in March as well, and largely for the same reason -- concerns that a sharp uptick in North American onshore oil production would continue to weigh on oil prices and further extend an offshore downturn that's already the longest...
More