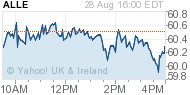 DUBLIN--(BUSINESSWIRE)--
Allegion plc (NYSE: ALLE), a leading global provider of security products and solutions, today announced the divestiture of its majority ownership in its Venezuelan business to Venezuelan investors.
"This decision was made to improve our shareholder value by reducing risk associated with an uncertain operating environment and the Venezuelan bolivar," said David D. Petratis, chairman, president and CEO of Allegion. "We have valued the contribution of the entire team to Allegion's success and expect that the business will be in good hands."
The terms of the agreement were not disclosed. However, Allegion will record a non-cash charge currently estimated at $26 million, which primarily represents cumulative currency translation adjustments that have been deferred in...
More