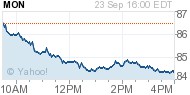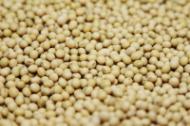 By P.J. Huffstutter and Carey Gillam
CHICAGO AND KANSAS CITY XX (Reuters) - With its shares trading at three-year-lows since it abandoned a $46 billion bid to buy Syngenta AG last month, Monsanto Co. plans to offer worried shareholders a new corporate vision: a future in big data.
Monsanto executives are repositioning the company as a business built on data science and services, not just chemicals, seeds and genetic traits, Monsanto's chief technology officer Robert T. Fraley told Reuters. The company's top executives are sketching plans now, briefing top shareholders at all ahead of a November investor meeting at the company's St. Louis headquarters.
Fraley and others in recent months have met with at least 195 tech start-ups and identified five as potential acquisition targets, pending Monsanto's testing of products they make, company sources said.
But the ags-data field is crowded, and Monsanto's experience from its 2013 acquisition of Climate Corp. raises questions about the company's goal to reach profitability in its ags-data by 2019. The shifting narrative also is a sharp departure from the vision Monsanto described just weeks ago, as it bid for Syngenta, of a future based on agricultural chemicals and high-tech seeds.
"We transformed from industrial chemical company to a biotech company, then to a seeds company," Fraley said. "Now, we're transforming again."
Ultimately, Monsanto's aim is to cut its operational costs, improve its return on existing investments, and develop lucrative new product lines. Work already under way includes tools that improve planting efficiency, sensors that help Monsanto track its seeds shipped in cargo containers, and computer modelling that can speed the rollout of new seeds and traits while still reducing Monsanto's own staffing costs.
Company officials decline to project the sales and profits they expect from the move...
More