Amazon (AMZN) just released its second-quarter financial results, posting earnings of $0.40 per share and revenues of $38 billion. The stock is down 2.32% to $1,020.55 per share in trading shortly after its earnings report was released.
Currently, AMZN is a Zacks Rank #5 (Strong Sell), but that ranking could change based on today's results.
Amazon:
Missed earnings estimates. The company posted earnings of 40 cents per share, missing the Zacks Consensus Estimate of $1.40.
Beat revenue estimates. The company saw revenue figures of $37.955 billion, beating our consensus estimate $37.214 billion.
Total revenues were up about 25% year-over-year, while profits were down a whopping 77% from the prior-year quarter.
Amazon Web Services revenue was up 42% to $4.1 billion. Segment operating income increased about 27.6% to $916 million.
"Our teams remain heads-down and focused on customers," said CEO Jeff Bezos. "It's energizing to invent on behalf of customers, and we continue to see many high-quality opportunities to invest."
For the third quarter, Amazon expects revenue to fall in the range of $39.25 billion to $41.75 billion. This would represent year-over-year growth between 20% and 28%. The company now expects operating income to come in at -$400 million to $300 million. This outlook excludes the impact of the company's proposed acquisition of Whole Foods (WFM).
Here's a graph that looks at Amazon's recent earnings performance:
Amazon.com, Inc. Price, Consensus and EPS Surprise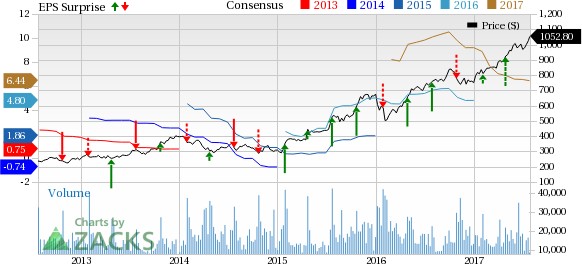 Amazon.com, Inc. Price, Consensus and EPS Surprise | Amazon.com, Inc. Quote
Amazon.com, Inc. seeks to be the world's most customer-centric company, where customers can find and discover anything they may want to buy online. The company lists unique items in categories such as books, music, DVDs, videos, consumer electronics, toys, camera and photo items, software, computer and video games, tools and hardware, lawn and patio items, kitchen products, and wireless products.
Check back later for our full analysis on Amazon's latest earnings report!
Want more stock market analysis from this author? Make sure to follow @
https://twitter.com/Ryan_McQueeney
on Twitter!
More Stock News: Tech Opportunity Worth $386 Billion in 2017
From driverless cars to artificial intelligence, we've seen an unsurpassed growth of high-tech products in recent months. Yesterday's science-fiction is becoming today's reality. Despite all the innovation, there is a single component no tech company can survive without. Demand for this critical device will reach $387 billion this year alone, and it's likely to grow even faster in the future.
Zacks has released a brand-new Special Report to help you take advantage of this exciting investment opportunity. Most importantly, it reveals 4 stocks with massive profit potential. See these stocks now>>
Want the latest recommendations from Zacks Investment Research? Today, you can download 7 Best Stocks for the Next 30 Days.
Click to get this free report
Amazon.com, Inc. (AMZN): Free Stock Analysis Report
To read this article on Zacks.com click here.
Zacks Investment Research