Gold has been bullish in 2016 and is possibly extending this rally. 

XAU/USD Daily Chart 8/2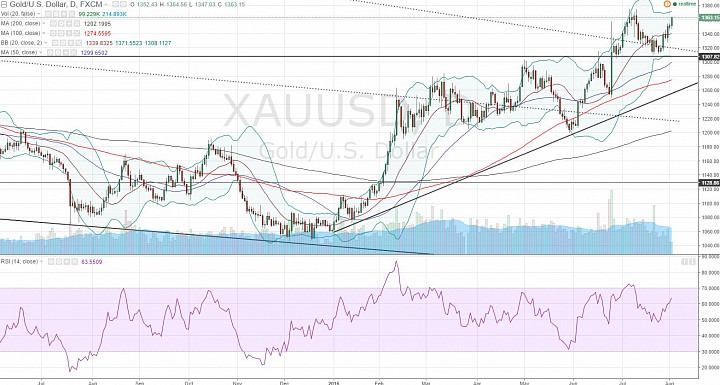 (click to enlarge)
Bullish breakout
- Gold consolidated under 1300 for a couple of months but broke above 1300 late June. 
- This rally lead to a break above a falling trendline (refer to weekly chart below).
- After these breakouts price pulled back but held above 1300, showing that bulls are indeed still in charge and has further ways to go.

XAU/USD Weekly Chart 


(click to enlarge)

Bullish reversal:
- The weekly chart shows that gold has been bearish since 2011 after retreating from a record-high.
- After coming down to about 1050 in 2015, price appears to be in a bullish reversal, or at least a significant bullish correction against the secular bear market.
- We can see that price has broken above several key resistance factors.
- The next key resistance could be around 1400 up to the 1427 pivot. 

FOMC:
- Gold (XAU/USD) is priced in the US Dollar, so following the FOMC could help anticipate its swings.
- The current rally in gold is in line with the market expectation that the FOMC is not going to raise rates anymore this year. 
- This means, if gold approaches 1400, but the FOMC starts to sound more hawkish, we will most likely see selling from this resistance.
- If however, the market gets further confirmation that a rate hike will be delayed until 2017, then gold has a chance to push above 1400 towards 1500. The 1500-1550 area will be another critical resistance and is the limit to MY bullish outlook for gold.