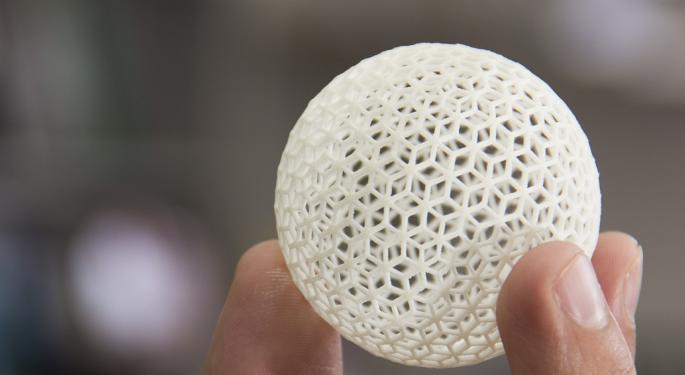 The notion that we bring something new that really changed how electronics is made and designed and that is really an exciting thing, Amit Dror, CEO of Nano Dimension Ltd - ADR NNDM focused on R&D of advanced 3D printed electronics said in a freewheeling chat with Benzinga.
The CEO expressed excitement over the professionally engineered attribute of the company's printers of electronics.
Market Connect
When probed as to whether there is a connection between the company's applications and the market, Dror said unlike 18 months ago, there have been more than 3,000 calls per day, a quantum leap from 10–20 calls per day previously.
There is market out there to be tapped, obviating the education to enlighten the market about the product, the CEO said. Dror is of the view the time a 3D printer saves is the rationale behind engineers taking to 3D printers like fish to water.
PCB 3D Printing
Giving an example to highlight the clear advantage 3D printing offers, Dror mentioned of printed circuit board, or PCB. The DragonFly 2020 3D printer is used for printing multi-layer circuit boards, which are being used on electronic devices such as military applications.
Bio-Printing, Evolving
On bio-printing, for which Nano Dimensions has formed a separate new subsidiary, Dror said the company was successful in creating a prototype and came around to create human tissue.
When asked if he had a timeline for bio-printing, Dror said, "What is currently being done is research. We're going to build a more focused program, a more focused project plan. then we will be more comfortable to start sharing a timeline."
On Lake Street's View Of 2017 Being A Seed Year
Dror sees 2017 as the year when the company will sell tons of printers, changing into a delivery company after almost three years of hard work. The huge market opportunity before the company makes the years of hard work worth, the CEO opined.
The Numbers
Dror confirmed there are two units of 3D printers out there in the market and seven or eight in house. For the fourth quarter, Dror pitched the delivery target at four. He clarified that the first customers are beta customers, who provide a lot of feedback.
Scaling Up
Nano seems to be focusing on having a quality product and therefore would go slow. "We want to make sure that we're out there in quality just to make sure that we have a smooth delivery and by the end of three or four quarters from now, we scale it up. We start by establishing a base of 20 to 25 customers with the printer, using the printer. They are going to receive it over the next few months. In a year from now we want scale up things and change the beta approach to real sales and scaling up," Dror said.
Supply Chain
The company is working on establishing production line for the printer with suppliers just so that the planned scale up can happen in the second half of 2017. Dror also suggested that the company is working on establishing ink production.
ADRs of Nano Dimension closed Wednesday's trading at $6.67.
Do you have ideas for articles/interviews you'd like to see more of on Benzinga? Please email feedback@benzinga.com with your best article ideas. One person will be randomly selected to win a $20 Amazon gift card!
© 2016 Benzinga.com. Benzinga does not provide investment advice. All rights reserved.
Source