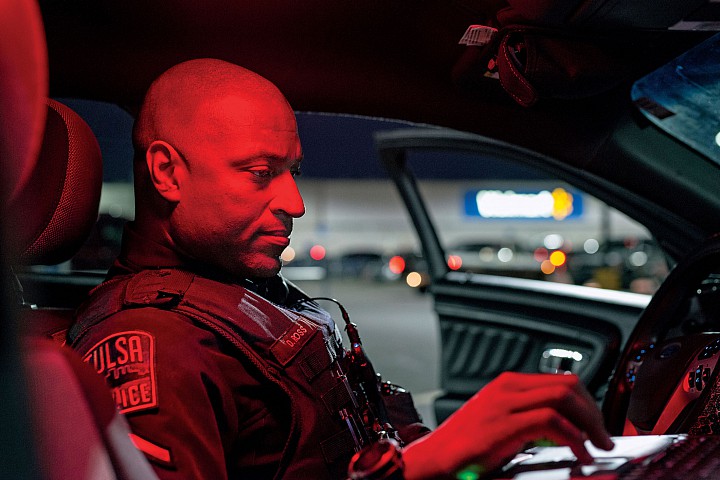 Darrell Ross—Officer Walmart to his colleagues in the Tulsa Police Department—operates for up to 10 hours a day out of the security office of a Walmart Supercenter in the city's northeast corner. It's a small, windowless space with six flatscreen monitors mounted on a pale blue cinder-block wall, and on this hot summer day, the room is packed. Four Walmart employees watch the monitors, which toggle among the dozens of cameras covering the store and parking lot, while doing paperwork and snacking on Cheez Whiz and Club Crackers. In a corner of the room, an off-duty sheriff's officer, hired by Walmart, makes small talk with the employees.
As soon as Ross walks in the door, around 2 p.m., he's presented with an 18-year-old who tried to leave the store with a microwave oven. Ross focuses his gaze and talks in a low voice to the young man, who just graduated from high school and plans to go into the military. He also attempts to calm the boy's mother, who rushed to the store and is worried that her son won't be able to enlist if he gets a criminal record. "You need to start taking responsibility for your actions," Ross tells the teenager. "You're a man now." He tells the mother that because it was the boy's first offense, he won't be arrested—but if he messes up twice more, he'll be charged with a felony. Ross slips a pair of reading glasses out of his bulletproof vest and writes the young man a summons to appear in court.
Before he can finish the paperwork, Walmart security employees catch another shoplifter. They bring in a middle-aged woman with big sunken eyes and pale cheeks, her hair tied in a messy bun. Employees caught her using phony gift cards. She rattles off excuses: The cards were given to her by a friend, she's just gotten out of the hospital, she's dehydrated. At one point she pretends to vomit into a trash can. Picking up the odor of pot, Ross takes a look in her handbag and finds marijuana roaches, along with a small scale and a pill bottle full of baggies. A computer check reveals five outstanding warrants for her arrest.
It's not unusual for the department to send a van to transport all the criminals Ross arrests at this Walmart. The call log on the store stretches 126 pages, documenting more than 5,000 trips over the past five years. Last year police were called to the store and three other Tulsa Walmarts just under 2,000 times. By comparison, they were called to the city's four Target stores about 300 times. Most of the calls to the northeast Supercenter were for shoplifting, but there's no shortage of more serious crimes, including five armed robberies so far this year, a murder suspect who killed himself with a gunshot to the head in the parking lot last year, and, in 2014, a group of men who got into a parking lot shootout that killed one and seriously injured two others.
Police reports from dozens of stores suggest the number of petty crimes committed on Walmart properties nationwide this year will be in the hundreds of thousands. But people dashing out the door with merchandise is the least troubling part of Walmart's crime problem. More than 200 violent crimes, including attempted kidnappings and multiple stabbings, shootings, and murders, have occurred at the nation's 4,500 Walmarts this year, or about one a day, according to an analysis of media reports. Sometimes they're spectacular enough to get national attention. In June, a SWAT team killed a hostage taker at a Walmart in Amarillo, Texas. In July, three Walmart employees in Florida were charged with manslaughter after a shoplifter they chased and pinned down died of asphyxia. Other crimes are just bizarre. On Aug. 8, police discovered a meth lab inside a 6-foot-high drainage pipe under a Walmart parking lot in Amherst, N.Y.
All this is still happening more than a year into a corporate campaign to bring down crime—a campaign Walmart says is succeeding. Chief Executive Officer Doug McMillon, who took charge of the giant retailer in February 2014, has made reducing crime a top priority. The company's new strategy primarily involves shifting employees within stores—moving them from the storeroom and aisles to store exits, where some of them spot-check receipts. It's also stationing people at self-checkout areas, installing eye-level security cameras in high-theft areas (particularly electronics and cosmetics departments), and using data analytics to detect when people try to get credit for things they didn't buy (thieves love to find discarded receipts in the parking lot, then go into the store, gather up items on the list, and "return" them for cash). To cut down on calls to police, Walmart has been rolling out a program where first-time offenders caught stealing merchandise below a certain value can avoid arrest if they agree to go through a theft-prevention program. At some higher-crime stores, the company is also hiring off-duty police and private security officers. According to Walmart Stores executives, it's all starting to work.
Police chiefs and their officers on the ground say that's just not so. Ross likes to joke that the concentration of crime at Walmart makes his job easier. "I've got all my bad guys in one place," he says, flashing a bright smile. His squad's sergeant, Robert Rohloff, a 34-year police veteran who has to worry about staffing, budgets, and patrolling the busiest commercial district in Tulsa, says there's nothing funny about Walmart's impact on public safety. He can't believe, he says, that a multibillion-dollar corporation isn't doing more to stop crime. Instead, he says, it offloads the job to the police at taxpayers' expense. "It's ridiculous—we are talking about the biggest retailer in the world," says Rohloff. "I may have half my squad there for hours."
Walmart knows police departments are frustrated. "We absolutely understand how important this is. It is important for our associates, it is important for our customers and across the communities we serve," says Judith McKenna, Walmart's chief operating officer for the U.S. "We can do better."
But when? That's what law enforcement around the country wants to know. "The constant calls from Walmart are just draining," says Bill Ferguson, a police captain in Port Richey, Fla. "They recognize the problem and refuse to do anything about it."
There's nothing inevitable about the level of crime at Walmart. It's the direct, if unintended, result of corporate policy. Beginning as far back as 2000, when former CEO Lee Scott took over, an aggressive cost-cutting crusade led many stores to deteriorate. The famed greeters were removed, taking away a deterrent to theft at the porous entrances and exits. Self-checkout scanners replaced many cashiers. Walmart added stores faster than it hired employees. The company has one worker for every...
More