On Thursday, we brought you Ash Carter and his "big stick" (you're welcome) which he is busy waving around on the deck of the USS Theodore Roosevelt in the South Pacific.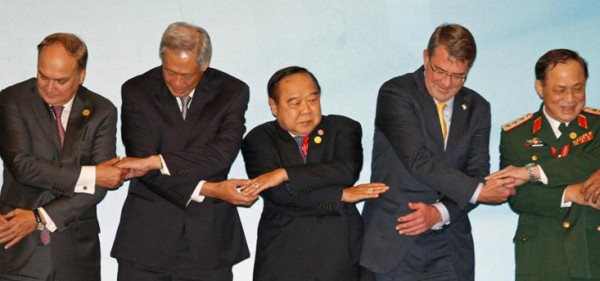 Ultimately, the Defense Secretary was making the rounds in an effort to prove to Washington's regional allies that the US is "serious" about deterring Chinese "aggression" in the Spratlys. 
We doubt we need to recap the story, so we'll keep it brief, but Beijing has constructed some 3,000 acres of new "sovereign" territory atop reefs in The South China Sea. The PLA then proceeded to build runways, cement factories, and all manner of other questionable facilities on the new islands, which unnerved America's South Pacific allies. 
Initially, the US tried to contain the situation with a series of brave pronouncements and when that didn't stop China from continuing to deploy the dredgers, Obama sentt a guided missile destroyer to Subi.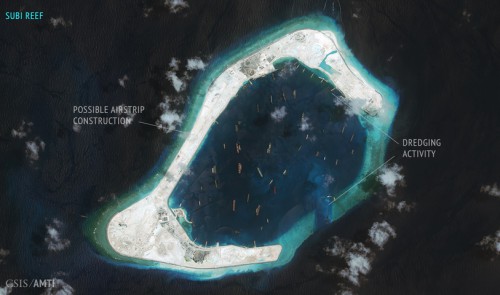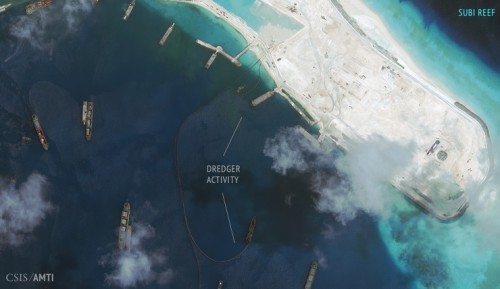 Thankfully - for those who don't wish to witness World War III - China didn't fire on or otherwise surround the USS Lassen and thus Beijing took the high road. The "pass-by" was one of the most well documented geopolitical events of the year and now, we have an account of the communication that occurred between the US Navy and the PLA. Here's Reuters with more on the hilarious exhchange: 
As soon as the guided-missile destroyer USS Lassen breached 12-nautical-mile territorial limits around one of China's man-made islands in the disputed South China Sea last week, a Chinese warship shadowing its movements began demanding answers.




"'Hey, you are in Chinese waters. What is your intention?'," it asked, as recounted to reporters on Thursday by Commander Robert Francis, commanding officer of the Lassen.




His crew replied that they were operating in accordance with international law, and intended to transit past the island, carrying out what U.S. officials have called a freedom-of-navigation exercise designed to challenge China's claims to the strategic waterway.




The response from the Chinese destroyer?




"The same query, over and over," said Francis, speaking onboard the aircraft carrier USS Theodore Roosevelt as it sailed 150 to 200 nautical miles from the southern tip of the Spratly archipelago, a chain of contested islands where China's seven artificial outposts have taken shape in barely two years.




The Chinese destroyer shadowed the Lassen for 10 days before and after its Oct. 27 patrol near the artificial islands, said Francis. The Lassen got to within six to seven nautical miles from the nearest Chinese land formation, he added.




But not all U.S.-Chinese naval interactions are tense, especially when things are slow on the high seas.




"A few weeks ago we were talking to one of the ships that was accompanying us, a Chinese vessel ... (We) picked up the phone and just talked to him like, 'Hey, what are you guys doing this Saturday? Oh, we got pizza and wings. What are you guys eating? Oh, we're doing this. Hey, we're planning for Halloween as well'." The intent, Francis said, is "to show them ... that we're normal sailors, just like them, have families, just like them."




Eventually, the Chinese destroyer that had followed the Lassen on its mission past the artificial islands peeled away.




"They were very cordial the entire time ... even before and after the Spratly islands transit," Francis said.




"When they left us they said, 'Hey, we're not going to be with you anymore. Wish you a pleasant voyage. Hope to see you again'."
We don't think it's necessary to comment further on the interactions described above, but we would note that the US is set to conduct these "patrols" twice every three months.
We'll leave it to readers to extrapolate on the meaning of "hope to see you again," and on that note, we'll simply close with the following quote from China's latest defense white paper:
On the issues concerning China's territorial sovereignty and maritime rights and interests, some of its offshore neighbors take provocative actions and reinforce their military presence on China's reefs and islands that they have illegally occupied. Some external countries are also busy meddling in South China Sea affairs; a tiny few maintain constant close-in air and sea surveillance and reconnaissance against China. It is thus a long-standing task for China to safeguard its maritime rights and interests.