Trade with confidence. Are you a professional trader? Be the first to get the alert with Benzinga Pro's real-time newsfeed and audio squawk and never miss an opportunity again.
Don't miss the chance to try it FREE today.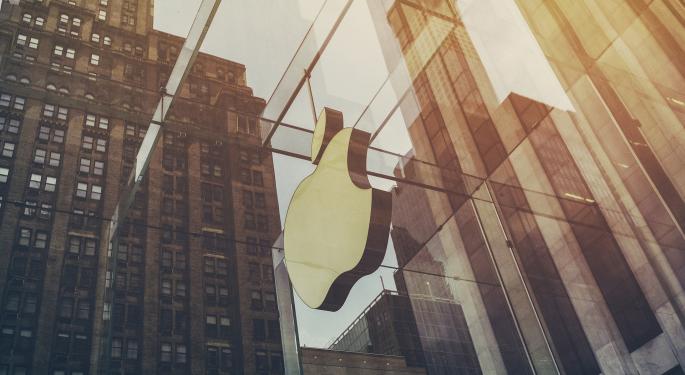 Although the S&P 500 index is knocking on the door of all-time highs, its top component Apple Inc. AAPL 0.69% remains quite a distance from its all-time high. That was made on April 28, 2015 at $134.54. That was the day following its 2015 Q2 report, which boasted a $0.23 EPS beat along with nearly a $3 billion revenue beat.
Unfortunately for Apple shareholders, it peaked at $134.54 that day and retreated to close at $130.56. It's spent very little time in the $130 handle ever since. The lowest level it's reached since then was on the August 24 Flash Crash ($92). It revisited that crucial support level on February 11 ($92.39), the same the day the broad market bottomed, at $92.39.
Its peak on the rebound off that low was made on April 14 at $112.39. It should be noted it made two other highs, one the day before at $112.34 and one the day after at $112.30, putting in a triple top.
But Wait, There's More
However, this article isn't about investing in the issue and riding through its upcoming report. With the fickle finger of Wall Street, that is akin to flat-out gambling. In the words of options expert Nic Chahine, "Even if one has the results of the report beforehand, it is nearly impossible to profit from it." The reason being is that there is no way to interpret how the Street will actually react to report and what forward looking statements a company may have.
Instead, this article will focus on the trading action one week before its earnings report over its previous four quarters.
Keep in mind, this isn't a fool-proof trading strategy, but merely an observation of the price action. As the chart below indicates, there have been substantial rallies in Apple in the week preceding its last four earnings reports. Of course, the timing of the entry and exit is crucial, but that applies to any short- or long-term strategy.
As the chart below indicates, no matter what the price action is beforehand, Apple has rallied the week before its last four earnings reports.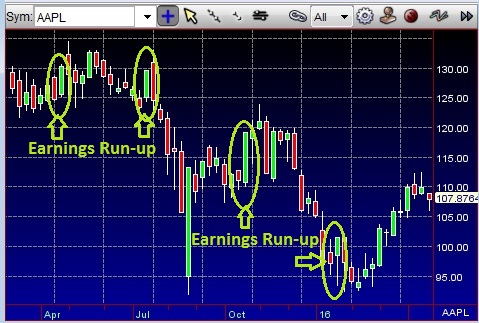 Of the four examples, the third one would have required an accurate exit strategy to have capitalized on the trading action. It should be noted Apple rallied sharply the day following the report to close at $119.50 and continued to $123.84 before collapsing.
So what does all of this mean six days before Apple's Q2 report on April 25? For the contrarian, it could mean a buying opportunity. With the Street being so negative on the issue regarding iPhone shipments and sales, the bar has been pretty low. And what happens when an issue beats lowered expectations? It rallies.
Therefore, nervous shorts that are already taking some heat from its recent rally may be attempting to wiggle out before the report. That coupled with perma Apple bulls that buy no matter what may exert some upside pressure on the issue.
Technical Take
From a technical perspective, Apple closed at $107.48 (one week before the report) and has put in a double bottom at the $106 area from Tuesday's ($106.23) and Wednesday's sessions ($106.06) that may provide for an exit point if the issue goes into reverse. It has come down from the $112 area to its current price for no real fundamental reason.
At this time, Apple is back in the area of the targeted close for this thesis (trading higher by $0.78 at $107.69).
Whether or not this strategy will prove to be profitable or not until next Tuesday, it certainly has a strong rally in the broad market at its back.
© 2016 Benzinga.com. Benzinga does not provide investment advice. All rights reserved.