Trade with confidence. Are you a professional trader? Be the first to get the alert with Benzinga Pro's real-time newsfeed and audio squawk and never miss an opportunity again.
Don't miss the chance to try it FREE today.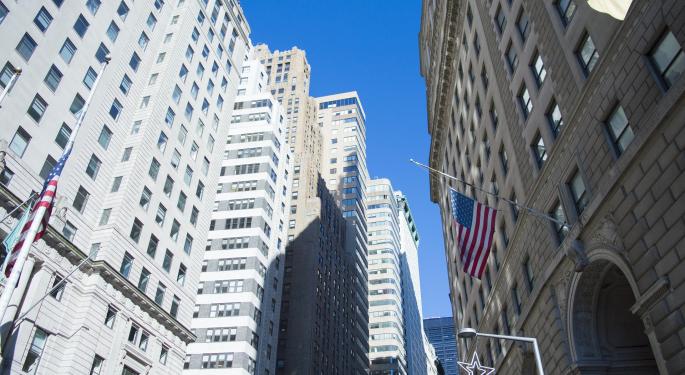 Below is a tool used by the Benzinga News Desk each trading day -- it's a look at everything happening in the market, in five minutes. Apply for daily AM access by clicking here or email minutes@benzinga.com.
Macro Focus
Asian stocks were mostly lower, led by another selloff in Japanese equities. Japan's Nikkei index tumbled 3.11 percent, adding to Thursday's 3.61 percent loss (Japanese markets were closed on Friday for a national holiday), after the country's currency realized its largest two-day gain against the U.S. dollar since 2008.
Oil prices were trading lower Monday morning. As a reminder, OPEC said on Friday its April export activity rose to 32.64 million barrels per day (from 32.47 million in March) - close to the highest level in recent history. Crude futures for June delivery were lower by 0.7 percent at $45.60 a barrel, while Brent crude for June delivery was lower by 1.1 percent at $46.84 a barrel.
Gov. Alejandro Garcia Padilla announced Puerto Rico's government won't make nearly $370 million in bond payments due Monday after a failure to restructure or find a political solution to the U.S. territory's spiraling public debt crisis. Nearly all the bonds are held by a variety of U.S. hedge funds and mutual funds.
BZ News Desk Focus
Ford Motor F 1.25% CFO Bob Shanks joined the PreMarket Prep broadcast this morning. Check back soon for updates from the call, such as Ford having the largest fleet of autonomous vehicles in the world.
Find out what's going on in today's market and bring any questions you have to Benzinga's PreMarket Prep.
Sell-Side Themes
A handful of analysts weighed in on Seagate STX 5.51% following its earnings miss and subsequent stock fall late last week. Brean even admitted it was wrong on the stock.
Sell-Side's Most Noteworthy Calls
Buy-Side
Pernix Therapeutics PTX 40.91% shares rose 69.31 percent to $1.270 in pre-market trading following Friday's report of a 5.8 percent Stake by Point 72.
Deal Talk
Halliburton HAL 2.28% and Baker Hughes BHI 0.33% announced over the weekend that the companies have terminated their proposed merger agreement, which was proposed back in November 2014. Halliburton proposed to acquire Baker Hughes in a transaction valued at $28 billion. However, regulatory and competitive concerns prompted antitrust officials to heavily scrutinize the deal.
Apollo Education APOL 9.87% says it's received a revised buyout offer of $10 per share from a consortium led by Apollo Global Management APO 2.48%, notes it represents "an excellent outcome for shareholders."
In The News
Warren Buffett has some sage advice for youngsters who one day may invest in the stock market: "A lot of problems are caused by envy. You don't want to get envious. Follow your own course."
Attention Twitter TWTR 0.82% and it shareholders: Digital-video ad spending in the US is expected to grow 28.5 percent this year to $9.84 billion, according to eMarketer.
"Australian entrepreneur Craig Wright has publicly identified himself as Bitcoin creator Satoshi Nakamoto. His admission ends years of speculation about who came up with the original ideas underlying the digital cash system," BBC reports. "Mr. Wright has provided technical proof to back up his claim using coins known to be owned by Bitcoin's creator. Prominent members of the Bitcoin community and its core development team have also confirmed Mr Wright's claim."
Is another tech bubble bursting? Despite record amount of money flowing into venture capital, funding for startups is drying up.
Blogosphere
After a scary start to the year, bond investors holding the riskiest debt will have been relieved to have ended April 5.3 percent ahead. If history is any guide, returns were to be expected. Whether May will bring a similar result is a coin-toss, and Gadfly's Christopher Langner says there's one certainty: more volatility.
Philosophical Economics: Does index investing make markets and economies more efficient?
Trending
NUGT ACAD PTX DUST GLD GDX APOL BHI BIDU VALE GOLD HAL JNUG OPWR JCP [StockTwits]
In his final run as comedian-in-chief at the White House Correspondents' Dinner on Saturday, President Barack Obama closed his speech with "Obama out," and a mic drop before receiving a standing ovation from Washington's bigwigs and Hollywood. Meanwhile, featured comedian Larry Wilmore has received some mixed reactions for his part.
© 2016 Benzinga.com. Benzinga does not provide investment advice. All rights reserved.