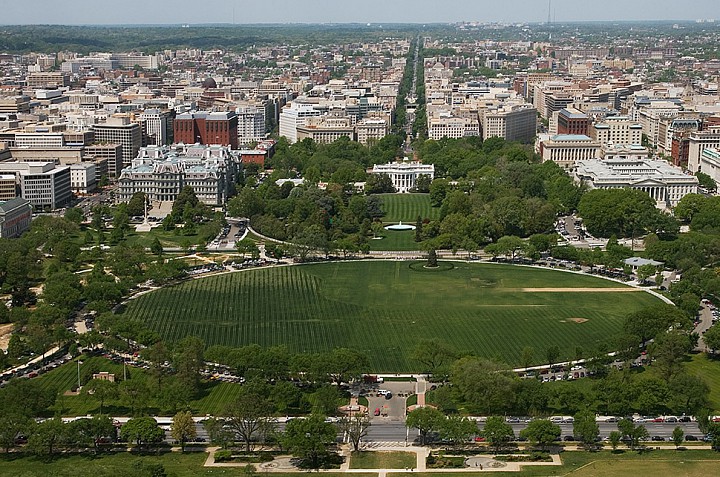 Photograph by Carol M. Highsmith
It was a small victory in a grim and runaway catastrophe. In July, Kent Brantly and Nancy Writebol, both American medical workers in Liberia, became stricken with Ebola hemorrhagic fever after treating dozens suffering from the disease, which has a mortality rate of 50 percent to 90 percent. They were rushed doses of an experimental cocktail of Ebola antibodies called ZMapp, flown home via a Gulfstream III on separate flights on Aug. 2 and 5, and each isolated inside a special tent called an "aeromedical biological containment system." The U.S. Department of State and the Centers for Disease Control and Prevention (CDC) coordinated the flights, operated by Phoenix Air, a private transport company based in Georgia. Cared for in a special ward at Emory University in Atlanta, they recovered within the month and later met with President Obama. It appeared to be a win for the White House.
Mapp Biopharmaceutical, the San Diego company that developed ZMapp, is also in a way a White House project. It's supported exclusively through federal grants and contracts that go back to 2005. The antibody mixture hadn't yet passed its first phase of human clinical trials, but after the two Americans were infected with Ebola, the Food and Drug Administration granted emergency access to ZMapp.
It's too early to say whether ZMapp was vital to the Americans' survival. There were a limited number of doses available. Mapp ran out after having given doses to the two Americans, a Spanish priest, and doctors in two West African countries, although it declined to say how many. And that raised fair questions: Why hadn't the promising treatment gone through human clinical trials sooner, and why were there so few doses on hand?
Since appearing in Guinea in December, Ebola has spread to five West African countries and infected 5,864 people, of which 2,811 have died, according to the World Health Organization's Sept. 22 report. This number is widely considered an underestimate. The CDC's worst-case model assumes that cases are "significantly under-reported" by a factor of 2.5. With that correction, the CDC predicts 21,000 total cases in Liberia and Sierra Leone alone by Sept. 30.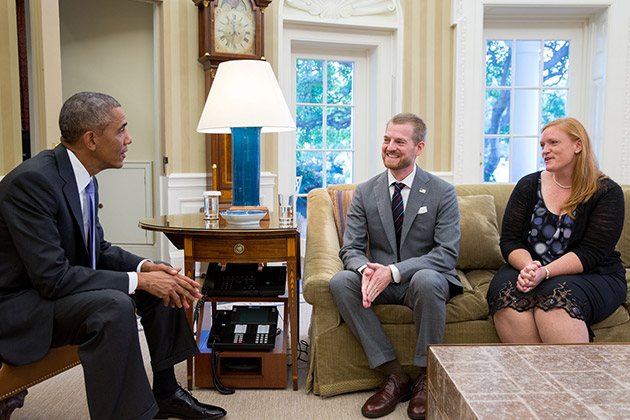 Photograph by Pete Souza/White HousePresident Obama meets with Kent Brantly and his wife, Amber, in the Oval Office on Sept. 16
A confluence of factors has made it the biggest Ebola outbreak yet. For starters, West Africa has never seen Ebola before; previous outbreaks have mainly surfaced in the Democratic Republic of the Congo in Central Africa. The initial symptoms of Ebola—fever, vomiting, muscle aches—are also similar to, and were mistaken for, other diseases endemic to the region, such as malaria.
Then, when officials and international workers swept into villages covered head to toe and took away patients for isolation, some family members became convinced that their relatives were dying because of what happened to them in the hospitals. They avoided medical care and lied to doctors about their travel histories. Medical staff at local hospitals became scared and quit their jobs. Aid workers trying to set up isolation units or trace infected people's contacts were attacked by angry villagers. With these countries short on resources, staff, medical equipment, and basic understanding of the disease, Ebola took hold and spread.
There have been a number of admirable and vigilant responses, from local doctors and emergency workers to nongovernmental organizations such as Doctors Without Borders. Foreign governments have so far pledged about a third of the $988 million the United Nations says is needed to fight the epidemic. On Sept. 16, the Obama administration announced plans to send 3,000 military personnel to assist with shipping and distribution of medical equipment and supplies. The Americans will also help build treatment centers and train health-care providers in the region.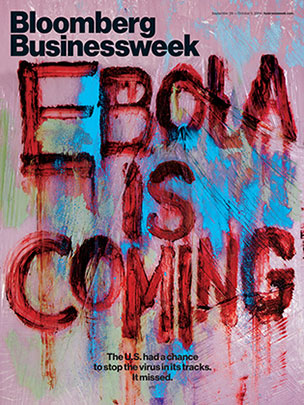 Could a large stockpile of ZMapp have halted the spread of Ebola? No one can say. What's certain is that the U.S. government hasn't done a good job taking the idea behind ZMapp and turning it into a treatment. The technology for antibody cocktails such as ZMapp has "been around for a few decades," says Robert Garry, a professor of microbiology at Tulane University. "This is something that, given the emergency, the government could have moved a little faster on, quite honestly." He's more right than he knows. The treatment came into the hands of a little-known Pentagon agency in late 2010, and, Bloomberg Businessweek has learned, ZMapp sat there dormant, waiting for a contract, for two years.


There are, broadly speaking, two ways to spend money on biological defense: on gloves or on drugs. A response to any attack requires a public health infrastructure, things like gowns, boots, masks, and gloves to prevent the spread of infection, training for doctors and nurses, and field hospitals that can be moved to the site of an outbreak. Or a threat can be met with what the federal government calls a "medical countermeasure," a vaccine to prevent infection or a therapy for recovery.
In the 1990s, after revelations of the Soviet biological and chemical weapons programs and the 1995 sarin gas attack in the Tokyo subway, the U.S. handed its defensive drugmaking to the Pentagon. After 2001, the Pentagon budget for biological and chemical defense rose from $880 million to $1.12 billion. Since then, roughly a third of its total budget, about $3.9 billion, has been designated for a list of "biological threat agents." The list is classified, but it now numbers 18, according to a 2014 analysis by the U.S. Government Accountability Office. Ebola is almost certainly on this list and likely near the top. The Soviet Union had an Ebola program, and Aum Shinrikyo, the cult that released the sarin gas in Tokyo, sent doctors in 1993 to what's now the Democratic Republic of the Congo on an unsuccessful mission to get an Ebola sample.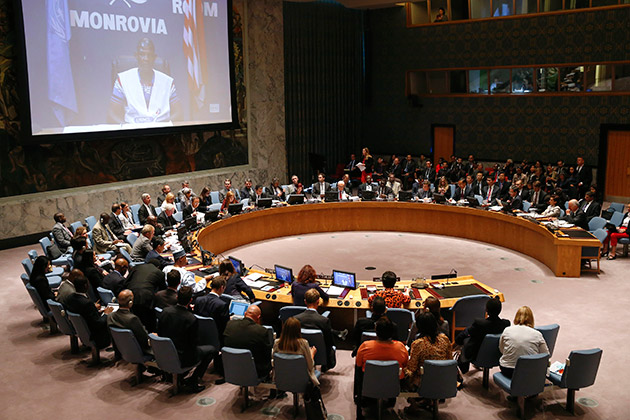 Photograph by Shannon Stapleton/ReutersMembers of the Security Council attend a meeting on the Ebola crisis at UN headquarters in New York on Sept. 18
Then, because the 2001 anthrax attacks on the Capitol in Washington were directed at civilians, the Department of Health and Human Services launched a parallel track in biochemical defense. Soon, the HHS began keeping its own list of biological threats. Over the next two years, the budget at the National Institute of Allergy and Infectious Diseases (NIAID), part of the HHS, jumped from $2.04 billion to $3.7 billion. Two separate arms of the federal government, with a $5 billion annual budget between them, now were focused on the same set of problems but not talking to each other well. And neither was accomplishing what was needed most: producing drugs.
By 2006 the White House became aware of an inefficiency. NIAID's budget went to sponsor basic research at university and commercial labs, but the agency didn't move its ideas out of the lab, into trials, and through the FDA approval process. The Pentagon's program also "never got enough money to be a pharmaceutical company," says Robert Kadlec. A consultant and public health physician who held several high-level posts in biodefense in the George W. Bush administration, Kadlec says the Pentagon had "enough for research and development, but not for licensure."
"For things like Ebola, there is no clear buyer other than the government," says Thomas Inglesby, the director of the Center for Health Security at the University of Pittsburgh Medical Center who's advised three White Houses on biosecurity issues. Normally, he notes, market potential "pulls" a drug forward. With relatively rare tropical diseases, "you basically have to start and finish that process" within the government, "because there is no other buyer in the world."
To hear legislators talk about it, getting treatments through the FDA is like a Hollywood movie in turnaround. "We identified the struggle as the advanced development," says Senator Richard Burr, a Republican from North Carolina, referring to the challenge of getting promising treatments through trials and approvals. "We called that area sort of 'the valley of death' for any product." 
Kadlec helped Burr create an agency to bridge the valley of death, the Biomedical Advanced Research and Development Authority (Barda). Unlike the Pentagon, Barda, a civilian agency, was granted fast-track contracting authority. It would get drugs out of research labs into trials and through to production.
Unfortunately, Barda was underfunded from the start. Pharma companies generally spend about a billion dollars to get a single drug from idea to FDA license. "Look at $100 million for Barda," says Kadlec, referring to the agency's annual budget. "We've been operating literally on dimes when they need dollars." In the last months of the Bush administration, he says, he persuaded the president to propose an appropriation of $900 million. Unlike almost every other pet project in Washington, it didn't make it into the 2009 stimulus bill.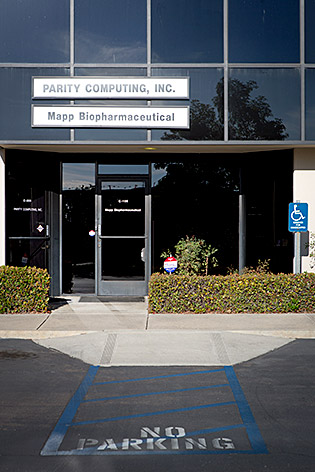 Photograph by Frank Duenzl via NewscomThe San Diego headquarters of Mapp Biopharmaceutical, maker of the experimental drug ZMapp, in August 2014
Around the same time, Mapp Biopharmaceutical was looking for more money. Founded in 2003, the company has nine employees (as of Aug. 5) and no external investors. For about a decade, it's taken an approach to Ebola that had been largely abandoned. Rather than develop a vaccine, which triggers the body to create its own antibodies—defenses against a virus—Mapp worked to develop monoclonal antibodies, a ready-made supply that can be introduced into the body as a therapy after infection. The company didn't respond to requests for comment.
Mapp had been funded through grants from NIAID, the civilian agency that did only basic research. While NIAID continued to fund Mapp until 2013, the grants were small, generally around $1 million a year, enough to keep the lights on but not enough to get ZMapp into clinical trials. Barda, then focused on influenza, didn't offer a contract. The agency's spokeswoman, Gretchen Michael, says that "in terms of Ebola, there haven't been products mature enough to get Barda level of funding" up until ZMapp this year. And so, according to a person familiar with the project who wasn't authorized to speak, informal communication among scientists brought the company to the Defense Threat Reduction Agency (DTRA), the arm of the Pentagon that would lead it out of the valley of death.


In the summer of 2011, right as Mapp was looking for a new sponsor, DTRA was taking a hard look at what it was doing. Created in 1998 largely to counter all weapons of mass destruction, DTRA had taken on the task of developing drugs for the Pentagon because there was no one else to do it. The agency's leadership toured labs, talked to researchers, and brought in advisers from pharmaceutical companies and academia. The conclusions from that review, laid out in a presentation Bloomberg Businessweek has seen, weren't encouraging.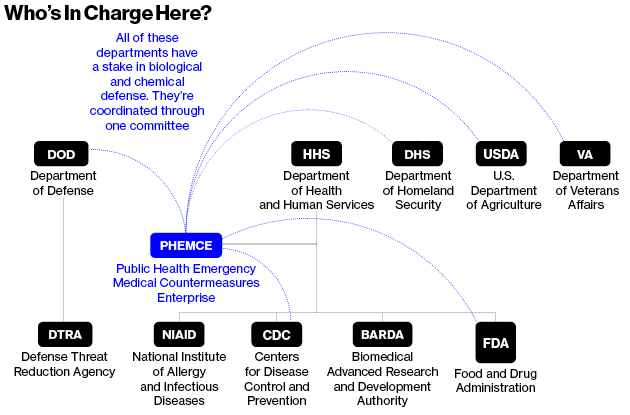 The presentation describes the agency's work as it was in 2011. Too much effort was wasted on "knowledge products," or basic science. Unpromising projects weren't killed and continued to waste money. Drug development was managed around yearly budgets rather than end goals. Efficacy studies, which determine whether drugs work on animals, weren't complete, nor were safety studies, which test whether a drug is OK for human use. Samples of Ebola were found in a freezer in a containment lab without patient histories, control samples, or even validation that they contained the virus. The samples were safe but useless for drug development.
Overall, the 2011 presentation concluded, the agency lacked "translational S&T project management discipline," which is a bureaucratic way of saying that there was no way to take ideas and move them down the long path toward a drug approved by the FDA for production or technology ready for the Pentagon to deploy.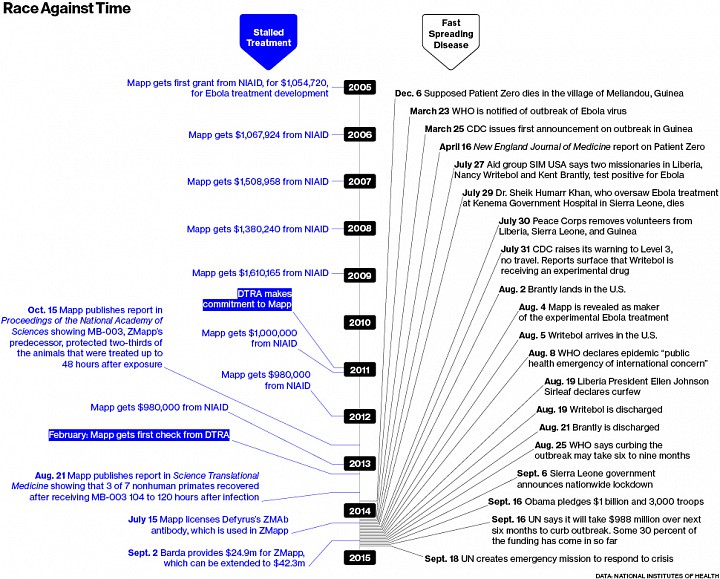 One year later, in a second report, an external Ph.D. researcher looked at DTRA's projects on technology to detect chemical and biological attacks. He found "a lack of solid technical oversight for a period of years," and "a near absence of strategic vision, complicated by much programmatic incoherency." One project suffered from an "egregious lack of coordination." Another is described as "an unmitigated disgrace, divorced from any sense of reality."
This was the agency that picked up Mapp.
According to two people familiar with the project who weren't authorized to speak, Mapp received a commitment from DTRA in February 2011 for MB-003, ZMapp's predecessor. This means that the antibody had been deemed a worthy idea but needed to go through a review process before any actual money could be disbursed to develop it. And that's when the ZMapp program really stalled. Unlike Barda, DTRA doesn't have fast-track contracting authority. Rather, it uses the Pentagon-wide contracting standards. This is slow anywhere in the Department of Defense. At DTRA, it can be agony.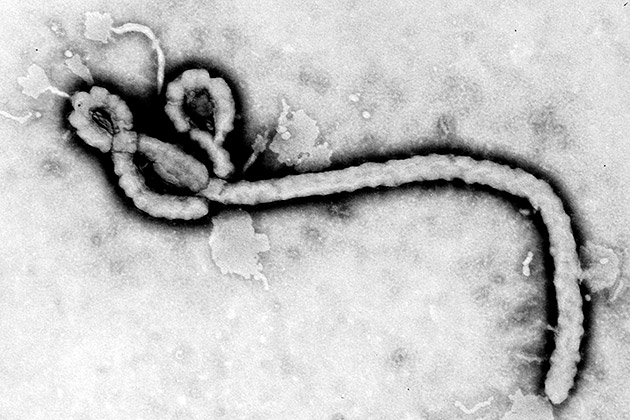 Courtesy CDCThe Ebola virus
"It was one of the most frustrating places I ever worked," says Riva Meade. "I lasted 13 months." Meade, now retired, worked in Pentagon contracting her entire career, much of it at the Defense Advanced Research Projects Agency. Around the same time as the 2011 review, she was brought into DTRA as the chief of the agency's business division.
Meade describes two problems. First, DTRA's contracting officers added unnecessary hurdles into an already cumbersome process. They aimed to make the organization what Meade calls "super clean"—no audits, no reviews, no second-guessing. This is difficult for research and development, when the government is frequently buying something it's never bought before and doesn't know how to buy it. "They just had a policy where they wanted never to be called out for making mistakes," says Meade. "If you want to run a shop like that, it's going to take a long time. I'm not sure it's a good policy when you're working in R&D and you need to get things done that the country needs done." The contracts department also refused to use expertise from other agencies to assess highly technical programs.
Meade's time as the business chief at DTRA also coincided with a culture clash within the agency, one confirmed by three other people familiar with the agency who declined to speak on the record. DTRA had hired several people with experience at private pharmaceutical companies who were used to killing programs that were going nowhere and spending money on promising ones.
The new arrivals wanted to drive products through early trials and to always be shipping. Older employees wanted to focus on publishing research and securing academic prestige. "When you work with a group of scientists who believe that the best thing that they can do is have a published paper, you're not going to get a lot of productivity when it comes to pharmaceuticals," says Meade. "Published papers are important in that line of work, but that seemed to be more important to them than anything else."
The people with pharma experience, she says, in turn failed to show the patience necessary to work in any government agency. "Frequently, what [government contracting officers] were requesting was ridiculous," she says, "but you know what, you just do it." One trick to federal contracting, she explains, is to know when not to fight.
Kadlec, the former Bush administration official who was still working in biodefense medicine, was well aware of both the delay with Mapp and the more general problems at DTRA. He says other companies working with the agency encountered similar holdups. "It was like, can we do any better than this?" he says.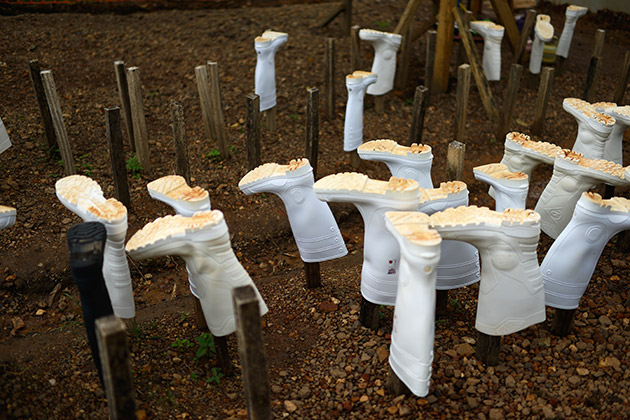 Photograph by Samuel ArandaBoots drying after being washed with chlorine at a Doctors Without Borders field hospital in Kailahun, Sierra Leone
In late 2012, Kadlec wrote a report for the UPMC's Center for Biosecurity on the potential benefits of monoclonal antibodies, the Mapp approach. The report, he says, was in part designed to nudge DTRA toward completing Mapp's contract. In it, he suggests that the Pentagon fast-track a few sample projects, including one for "prophylaxis against a fast-moving virus." Kadlec lays some blame on the Pentagon's contracting process. "You have to do this like you're buying an F-35," he says. "As you well know, a vaccine is not an airplane."
"The pharma guys lost," says Meade. In February 2013, Alan Rudolph, whose name appears on several presentations urging streamlined decision-making at DTRA, left the agency. Rudolph's departure happened to come the same month the agency finally wrote its first check to Mapp Biopharmaceutical.
According to one person familiar with DTRA, without the contract delays, Mapp could have completed trials necessary for either the CDC or the Pentagon to stockpile the drug. The Department of Defense says it's only because of its forethought that the U.S. has groundbreaking treatments like ZMapp at all. "Since the outbreak took hold, DTRA, along with other partners within the U.S. government, has accelerated its counter-Ebola efforts as much as possible as part of the global response," say Jennifer Elzea, a DOD spokeswoman.
It's still uncertain how effective ZMapp is, because only a handful of people have taken it. But doctors would have had a better idea if it hadn't been stuck in the federal bureaucracy for four years. The drug's path through the research labs of the Washington-Baltimore corridor shows that the federal government still isn't good at producing drugs. Barda needs money. DTRA can't move quickly. And the U.S., until now, hasn't made Ebola a priority. "That's why we don't have an Ebola countermeasure," says Kadlec. "We failed to invest enough dollars to have it mature."


Even the seemingly straightforward stuff can be hard. This summer, when Obama decided that the U.S. was going to bring home Americans stricken with Ebola, the White House had to deal with pushback. According to two people familiar with the matter who weren't authorized to speak on the record, the State Department first asked the U.S. Air Force, whose Transportation Command flies C-17 Globemasters outfitted with biological containment systems for sick patients. But the Air Force demurred. Its C-17s fly servicemen. The State Department didn't respond to a late request for comment on why the government used a private carrier. The Air Force referred questions to the National Security Council. Edward Price, a spokesman for the NSC, says the White House "did not request U.S. military transport."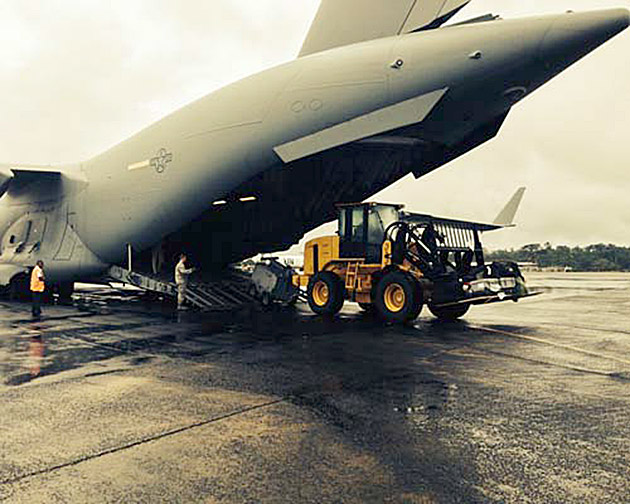 Photograph courtesy U.S. Embassy, MonroviaA shipment of supplies and equipment arrives in Liberia, the first since President Obama's speech at the CDC on Sept. 16
Biological hazards are difficult to plan for. Any pathogen can pose a threat to troops deployed abroad or citizens at home. It can spread as a weapon or on its own as a natural outbreak. Any plan spends money on something that hasn't happened yet, something difficult for any president to do. And it forces different federal agencies to work well together, something no U.S. president has yet accomplished. According to Kadlec, Bill Clinton became alarmed about bioterror toward the end of his administration. George W. Bush fired Clinton's bioterror adviser, then rehired him after Sept. 11. Dick Cheney was consumed by bioterror. Obama is now. And he's handling a situation none of his predecessors planned for: a natural foreign outbreak that may destabilize countries and become a national security risk.
Barda now has given Mapp Biopharmaceutical a $25 million contract to start clinical trials with ZMapp. This is encouraging, but it hasn't fixed the problem. The Pentagon and the HHS have a list of threats, and no real way to work down the list, devising treatments and getting them through the FDA's approval process.
Every outbreak will make every administration look feckless and incompetent. But the U.S., at the very least, needs to admit to itself that to improve readiness, it needs to function like a drugmaker—and be good at it. "As long as there's not sufficient money to address every one of the targeted diseases," says Senator Burr, "it's going to force the system to make a decision based on what's the greatest threat today."
http://www.businessweek.com/articles/2014-09-24/ebola-drug-z...