Amazon.com Inc. AMZN is currently firing on all cylinders to beef up its grocery segment and outshine rivals.
Just three weeks after snapping up natural and organic foods supermarket, Whole Foods Market for $13.7 billion, the retail juggernaut received the Indian government's nod to invest $500 million in food retail in the country.
With this India becomes the second country after the U.S. where Amazon is going the brick-and-mortar way.
Taking Advantage of the FDI Rule
Amazon is the first global player to take advantage of the Indian government's push to channelize FDI toward improving the nation's food supply chain. A June legislation allows 100% foreign direct investment (FDI) for companies that sell locally produced or sourced food items.
Amazon first placed the proposal in Feb 2017, which also highlighted its plans to open a wholly-owned subsidiary to conduct food retail. The proposed investment is over and above the previously committed $5 billion.
Details Few but Intentions Clear
Amazon has confirmed receiving the approval but declined to reveal business plans in details. The company is now in a position to open food outlets integrated with an online platform to sell locally produced food items.
Amazon.com, Inc. Revenue (TTM)
The news has put grocery retailers across India in a spot of bother, particularly homegrown e-commerce company Flipkart, which is planning to re-enter the grocery space.
Taking the Contest to Potential Market & Rivals
Amazon's attention has shifted to India owing to intensifying competition from Alibaba BABA and slowing e-commerce growth in China. The company is currently working on its plan to invest $5 billion in India and the increasing involvement reflects Amazon's intent to expand its brand visibility there.
Just like in the U.S., if it integrates offline and online features in food retail in India, it could reap the benefits from the ongoing e-commerce boom and growing adoption of smartphones in the nation.
We believe that if Amazon can successfully go the brick-and-mortar way in India, it will gain a huge competitive advantage against local players as well as bigwigs like Wal-Mart WMT and Alibaba.
Investors are the Big Winners
Over the last one year, Amazon's share price has grown roughly 33%, thanks to its solid loyalty program in Prime, Fulfillment By Amazon, Amazon Web Services (AWS) and initiatives around Internet of Things (IoT).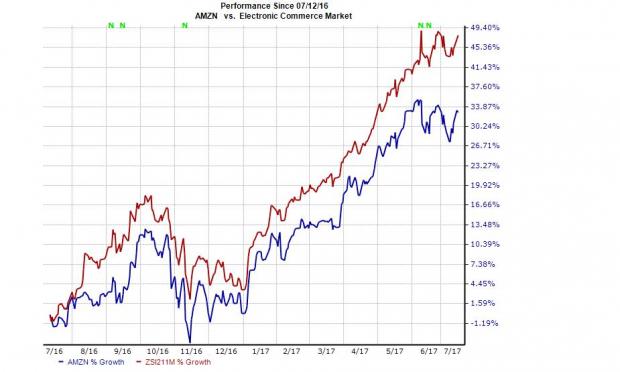 It has accelerated push into the offline market to counter competition from the likes of Alibaba, Wal-Mart and eBay EBAY and slow growth of online retail.
Though its grocery initiatives are relatively new, investors will see far more growth if Amazon could repeat its past success in this space. Everything that Amazon touches has been transformed to gold and its grocery venture could well add another feather in its cap.
Currently, Amazon has a Zacks Rank #5 (Strong Sell).
You can see the complete list of today's Zacks #1 Rank (Strong Buy) stocks here.
"More Stock News: 8 Companies Verge on Apple-Like Run
Did you miss Apple's 9X stock explosion after they launched their iPhone in 2007? Now 2017 looks to be a pivotal year to get in on another emerging technology expected to rock the market. Demand could soar from almost nothing to $42 billion by 2025. Reports suggest it could save 10 million lives per decade which could in turn save $200 billion in U.S. healthcare costs.
A bonus Zacks Special Report names this breakthrough and the 8 best stocks to exploit it. Like Apple in 2007, these companies are already strong and coiling for potential mega-gains. Click to see them right now >>
Want the latest recommendations from Zacks Investment Research? Today, you can download 7 Best Stocks for the Next 30 Days.
Click to get this free report
Amazon.com, Inc. (AMZN): Free Stock Analysis Report
eBay Inc. (EBAY): Free Stock Analysis Report
Alibaba Group Holding Limited (BABA): Free Stock Analysis Report
Wal-Mart Stores, Inc. (WMT): Free Stock Analysis Report
To read this article on Zacks.com click here.
Zacks Investment Research