Nvidia is going to report its earnings tomorrow after the closing bell, but we should think of a strategy right now. Nvidia soared more than 15% after Q1 FY2017 results and we will most likely see some volatility tomorrow in after-hours trading. Nvidia designs graphics processing units for the gaming market, as well as system on a chip units for the mobile computing and automotive market. The most important competitor is AMD, Nvidia is winning the competition as of now - based on a number of analysts, Nvidia's market share is steadily growing while AMD's is shrinking. Our yesterday's YELP options strategy will make more than 60% return at the expiration, so let's check whether we can make some profits with Nvidia's options. 
Analysts are rather positive than negative regarding Nvidia's upside potential - 5 analysts have 'buy' recommendation, while 17 analysts recommend to hold it, 5 analysts iterated 'outperform' rating and 3 'underperform'. Nvidia exceeded the revenue estimates 4 times out of 4 most recent earnings calls, moreover, they doubled EPS in Q3 FY2016 compared to estimates:
- EPS is expected to be slightly higher than in Q1 FY2017:

- Revenue is expected to go up 3% on q-o-q basis:

Source: Financial Times
Option traders are really active, that's why buying straddle is really expensive. However, as we did for YELP, we can reduce the costs by selling OTM options. I think that we should buy a $59 straddle and sell $65 call and $53 put options. Your initial outlay will be the following: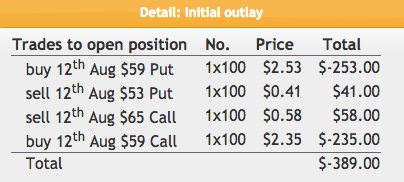 It won't be a cheap strategy, but your P&L table will be the following:

As we can see from this table - if the stock moves up or down more than 7% tomorrow, we'd earn money from this options strategy. Maximum potential return could be around 54% if the stock fluctuates more than 10%. I think it's more than possible, because the stock moved more than 15% after the most recent earnings call. Yelp had the same case - they moved significantly after the previous call, and the stock jumped 13% today.
If this strategy is too risky for you, you can basically sell some OTM options without buying a straddle.