Home Depot 's shares will reach $130 by 12.20.2015

20 november 2015
Home Depot (HD), a major US retailer of home improvement and construction products, recently released a strong financial report for 3QFY15. According to the report, revenue rose 6.4% y-o-y to USD 21.82 bn due to a 5.1% (7.3% in the US) increase in LFL sales, while EPS jumped 17.2% y-o-y to USD 1.36, outpacing expectations by 4 cents.
Quarterly dividend remained unchanged at 59 cents, yielding 1.9%. The company's management intends to increase dividend payout ratio to 50% of profit. In addition, the company continues to buy back its shares. Home Depot spent USD 5 bn for buyback over nine months of FY15 and plans to allocate USD 2 bn for further buyback.
Strong financial results in Q3 2015 allowed Home Depot's management to upgrade its financial outlook for FY15. Home Depot expects revenue to grow by 5.7% (previous forecast was 5.6%) in 2015, while LFL sales will be up 4.9% (vs. 4.1-4.9% earlier). Adjusted EPS will reach USD 5.36, yielding 13.8% (vs. USD 5.34 earlier).
I am upbeat about the company's outlook and raise my target price for Home Depot to USD 135. The short-term technical target is USD 130.
<!== INSTRUMENT %% %1440% ==!>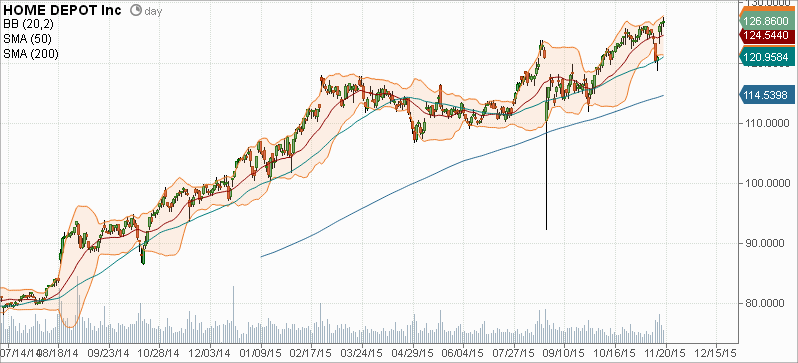 Voting is over
Waiting for


the right answer