On Monday, we updated the rapidly deteriorating situation in Brazil which for the uninitiated, faces a laundry list of seemingly intractable problems which Goldman recently summarized as follows:
We expect the economy to continue to face headwinds from:

the ongoing fiscal and quasi-fiscal adjustment
higher interest rates
increasingly exigent credit conditions
rapidly weakening labor market
higher levels of inventory in key industrial sectors
higher public tariffs and taxes
high levels of household indebtedness
weak external demand
soft commodity prices
political uncertainty
extremely depressed consumer and business confidence
And believe it or not, that's actually putting it nicely. The outlook for Brazil's fiscal adjustment is clouded by the country's political crisis which threatens Dilma Rousseff's presidency and makes passing badly needed spending cuts virtually impossible. Meanwhile, the current account continues to face pressure from a commodities slump that's exacerbated by depressed Chinese demand. 
Of course as Pedro Paulo Silveira, an economist at TOV currency brokerage in São Paulo told WSJ this week, "there's a negative feedback between the economic and the political crises," which helps to explain why the economy officially slid into recession in Q2 (a quarter during which Brazilians suffered through the worst stagflation in over a decade) and also suggests that before it's all said and done, Moody's and Fitch are likely to follow in S&P's footsteps by cutting the "B" in BRICS to junk. 
All of the above translates to near daily doses of bad economic news, downbeat analyst pronouncements, and currency turmoil and indeed, Tuesday was no different as the real slid to a record low and Brazil CDS blew out to near six year wides: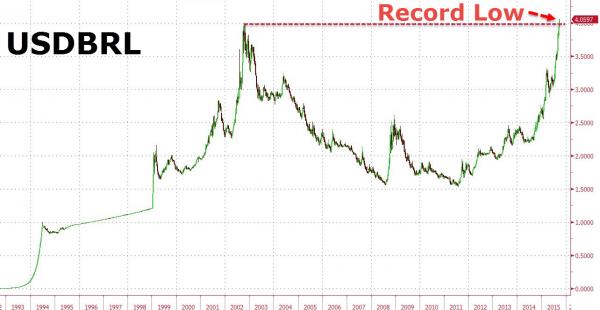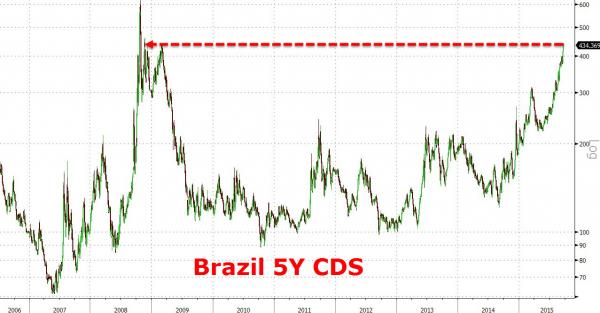 Of course the plunging BRL puts the central bank in a tough spot. That is, the risk of FX pass-through means adopting countercyclical policies in order to boost the economy is pretty much a no-go lest inflation expectations should become completely unanchored. Here's Goldman, commenting after the release of September IPCA-15 inflation data:
We expect annual headline inflation to end 2015 above 9%. The lagged pass-through from BRL depreciation, pass-through (second-round effects) from the large shock to administered prices to freely determined prices, inertia, and formal and informal indexation mechanisms are also likely to keep inflation under significant pressure in 2016 despite the projected severe contraction of real GDP in 2015 and likely extension of the recessionary cycle into 2016.

 
And here's further commentary from Goldman on the current account (where the deficit actually managed to print better than expectations last month):
The deterioration of the current account in recent years reflects to a very large extent the very significant decline of the public sector savings rate driven by the significant increase in non-investment spending. Therefore, as we have argued before we believe a weaker BRL and a significant, permanent, and structural fiscal adjustment are key to restore domestic (i.e., lower inflation) and external balance (i.e., to promote an orderly adjustment of the large current account deficit).
"Brazil needs growth, a development agenda, sufficiently low inflation [and] to find fiscal balance," Finance Minister Joaquim Levy (who very nearly quit out of frustration earlier this month) said today in Brasilia, even as lawmakers near a vote to override a Presidential veto on spending measures that threaten to undermine fiscal rectitude.
"[Although] Brazil's government may ask Congress to postpone voting on President Rousseff vetoes of measures that threaten fiscal adjustment, the delay wouldn't be positive, [as it] would be seen as further sign that the government doesn't have enough political power to impede a loss, and the risk of vetoes being overridden would only be postponed," Lucas Aragao, partner at Arko Advice, told Bloomberg on Tuesday.
As Goldman suggested last month - and as tipped by the fact that the central bank's recent actions are indicative of a shift to crisis mode - expect the BRL to bear the brunt of the pain going forward. Here's Credit Agricole's Mark McCormick: "[I] don't see much relief for the real in the cards in the short term. Idiosyncratic factors are driving the BRL now and we have a big week ahead with Congress slated to vote on Rousseff's veto. Move to 4.5 in the next 6 to 9 months is not ruled out if growth continues to falter, fiscal outlook deteriorates and Brazil gets downgraded by another rating agency." 
As for what happens if the dollar swap firewall eventually proves insufficient, we leave you with the following assessment from Sidnei Nehme, director of the NGO brokerage in São Paulo who spoke to WSJ: 
"If there's another rating downgrade, the bank will probably have to sell reserves. But that could be bad too, because the moment they mess with the reserves, that sends a sign of fragility and the real could be subject to speculative movements."