With a record 8,640 retail stores expected to close in 2017, American malls are desperate to draw in customers as America's retail apocalypse leaves them littered with empty store fronts. Now, some are experimenting with a model that worked for some movie theaters: Invest in restaurants and popular amenities like rock-climbing walls to sell customers a better shopping "experience."
To wit, Bloomberg spoke with the owner of the Newgate Mall, which plans to pour $500,000 into overhauling the outdated food court in a bid to lure restaurateurs and hungry shoppers. Rent payments from eateries are never going to recoup the renovation costs, but for landlord Time Equities Inc., that's not the point.
"The food hall is part of an effort to breathe new life into the entire 718,000-square-foot (67,000-square-meter) center and increase foot traffic, according to Ami Ziff, director of national retail at New York-based Time Equities. The company, which bought Newgate in Ogden, Utah, from GGP Inc. for $69.5 million last year, is one of many landlords wagering that elaborate makeovers will keep them competitive as they reinvent their properties in the age of Amazon.

Costs are escalating as mall owners work to keep their real estate up to date and fill the void left by failing stores. The companies are turning to everything from restaurants and bars to mini-golf courses and rock-climbing gyms to draw in customers who appear more interested in being entertained during a trip to the mall than they are in buying clothes and electronics. The new tenants will pay higher rents than struggling chains such as Macy's and Sears, and hopefully attract more traffic for retailers at the property, according to Haendel St. Juste, an analyst at Mizuho Securities USA LLC.

"The math is pretty obvious, pretty compelling, but there are risks," St. Juste said in an interview. "This hasn't been done before on a broad scale."
Malls expanded square-footage rapidly during the 2000s, creating a bubble of retail space. Thanks to Amazon and the rise of e-commerce, that bubble has now burt. And for many malls, time is quickly running out. One Credit Suisse analyst estimates that a quarter of American malls will close over the next five years.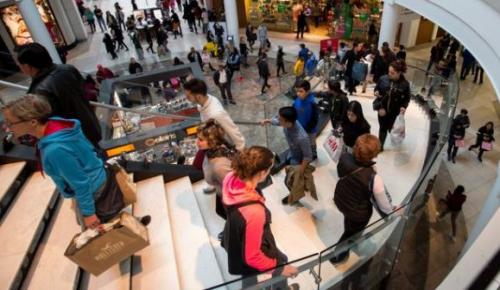 Already this year, more than 49 million square feet of retail space has closed. Should this pace persist by the end of the year, total square footage reductions could reach 147M square feet, another all-time high, and surpassing the historical peak of 115M in 2001.
According to Bloomberg, more than a dozen retailers have gone bankrupt this year as the shift toward online shopping accelerates. Even healthy retailers are shuttering hundreds of locations. As many as 13,000 stores are forecast to close next year, compared with 4,000 in 2016, according to brokerage Cushman & Wakefield Inc.

Some of these closings are the result of landlords preemptively kicking out weak retail tenents and filling those spaces with more-profitable businesses like gyms and the restaurant-arcade hybrid Dave & Buster's.
"Many landlords have been proactive in reclaiming space from weaker tenants to fill with more profitable ones. Chicago-based GGP, the No. 2 U.S. mall owner, has bought back 115 department stores over the last six years and redeveloped them, Chief Executive Officer Sandeep Mathrani said last month during the National Association of Real Estate Investment Trust's annual conference in New York.

The new tenant roster at those malls includes Best Buy and Nordstrom stores, restaurant-arcade chain Dave & Buster's and health club Life Time Fitness, he said."

Department stores, which have performed particularly poorly in the age of Amazon, are a popular target for reclamation, even though they once were the centerpiece of many US malls.

"We've actually made a very, very big statement by saying that over the next five years, we hope to recapture another 100 department stores," Mathrani said.

Ultimately, the wave of renovations is a shot in the dark. Data from landlords is sketchy, and retail analysts have trouble differentiating between maintenance, and improvements meant to help boost sales.

"It can be difficult to calculate capital expenditures for malls because of poor landlord disclosures, Green Street analysts said in the January report. It's a challenge to distinguish between deferred maintenance -- for example, fixing a roof -- and projects that will actually generate additional revenue at a property, the analysts wrote."
They could also lead to a wave of consolidation in the space, as only the largest landlords have the capital cushion to pay for these upgrades. These landlords also tend to own malls in more profitable markets, helping them recoup costs associated with upgrades through sales.
"Giants such as GGP and Simon Property Group Inc., the largest mall owner in the U.S., are better positioned to absorb the increased costs than their peers that own less-desirable real estate, according to Green Street. The two companies have some of the most profitable malls in the country, and their high sales volumes make it easier to recover expenses.

For Simon, redevelopment costs as a percentage of net operating income climbed from 3.5 percent in 2010 to 16.6 percent in 2015, before dropping to 7.6 percent last year, according to data Mizuho pulled from the company's filings. A representative for Indianapolis-based Simon declined to comment. However, on a conference call in April, CEO David Simon responded to a question from an analyst about the potential for rising capital expenditures.

'We spent a lot of capital in the portfolio to upgrade the look and feel. We're going to continue to do that,' Simon said. 'I think the returns will be there, and I don't think the dynamics of today's current environment have changed that.'"
Still, whether these efforts will succeed in increasing sales and foot traffic and sales remains to be seen. For now, at least, investors aren't buying it: Shares of the biggest mall REITs like Santa Monica, Calif.-based Macerich Co. are still in the red for the year.