The market rally in 2016 has been impressive. The SPY ETF which tracks the S&P500 shows a persistent rally after a double bottom at the year's low around 181. 

SPY Daily Chart 4/26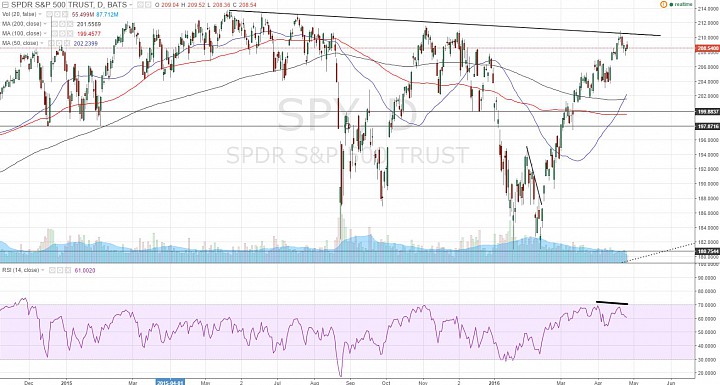 (click to enlarge)

There are a couple of things to acknowledge on the daily chart. 
1) Price has gone through a significant rally, and is now testing a projected resistance area around 210.
2) There is a bearish divergence between price and the RSI.

So will there be a May sell-off this year? Based on a technical assessment, we could have a bearish correction indeed. Even if the market is in a bull market, we can see a correction back towards the "central area" of price action. In this scenario, I would say that this area is around and just under 200. 

Around 200, we have the cluster of 200-, 100-, and 50-day simple moving average. Just under 200, we also see a common support/resistance pivot area. We should also anticipate support when the daily RSI approaches 40. 

FOMC: 
Yes I think the FOMC interest rate decision is inherently an event risk. But all I expect is a bit of volatility Wednesday. Unless price blasts through 213 tomorrow, I would still expect a correction in SPY with a target around 198-200 for June.