Shares of CBOE Holdings, Inc. CBOE inched up 0.9% in the last trading session after the company reported improved June volumes. Average daily volume (ADV) for the month increased 1.4% year over year to 7.2 million contracts. June had 22 trading days in total.

Total contracts for Jun 2017 were 158.6 million, up 1.1% year over year. Of this, options contracts increased 1.3% to 151.7 million, while futures contracts declined 3% to 6.9 million. Of the average daily volume (ADV), Options ADV was 6.9 million and Futures ADV was 0.3 million.

CBOE Holdings have been witnessing an improvement in trading volumes. This has largely supported increasing transaction fees (accounted for 72% of total operating revenue in 2016) and in turn, revenue growth.

We believe this Zacks Rank #1 (Strong Buy) options exchange will be able to retain its revenue momentum in the coming quarters, backed by a strong market position, global reach and a robust portfolio of proprietary products.

Subsequently, ADV of the U.S. Equities Matched came up with a figure of 1.4 billion shares in June, which was down 6.7% from the year-ago month. While the European Equities Matched reflected a decrease 16.7% year over year to €10 billion. Plus, the Global FX Matched declined 3.1% to $27.9 billion.

Total Options average revenue per contract (RPC) is expected to be 22.9 cents for the second quarter of 2017. RPC for futures is expected to be slightly lower than the RPC of options.

Shares of CBOE Holdings outperformed the Zacks categorized Securities and Exchanges industry, year to date. While the Intercontinental Exchange's shares rallied 25.84%, the Securities Exchanges industry registered an increase of 13.83%. We expect the company's diversified product portfolio and expansion moves to fuel growth as well as drive the shares higher.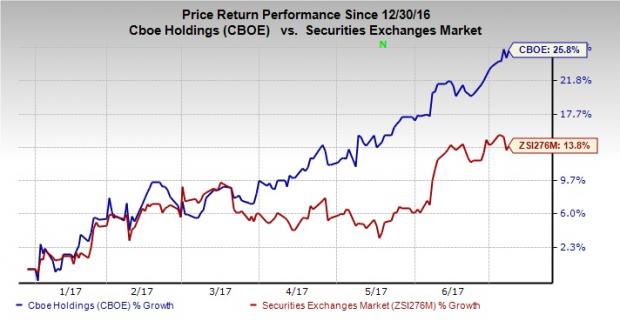 Recently, securities exchanges CME Group Inc. CME, Intercontinental Exchange, Inc. ICE and MarketAxess Holdings Ltd. MKTX have also reported their respective June volumes. While Intercontinental Exchange's average daily volume climbed 29% to 7 million contracts, MarketAxess has reported a trading volume of $127.2 billion in June. Plus, CME Group's contracts per day averaged at 16.6 million, up 1% year over year.

You can see the complete list of today's Zacks #1 Rank stocks here.
Will You Make a Fortune on the Shift to Electric Cars?
Here's another stock idea to consider. Much like petroleum 150 years ago, lithium power may soon shake the world, creating millionaires and reshaping geo-politics. Soon electric vehicles (EVs) may be cheaper than gas guzzlers. Some are already reaching 265 miles on a single charge. With battery prices plummeting and charging stations set to multiply, one company stands out as the #1 stock to buy according to Zacks research. It's not the one you think. See This Ticker Free >>
Want the latest recommendations from Zacks Investment Research? Today, you can download 7 Best Stocks for the Next 30 Days.
Click to get this free report
Intercontinental Exchange Inc. (ICE): Free Stock Analysis Report
CME Group Inc. (CME): Free Stock Analysis Report
CBOE Holdings, Inc. (CBOE): Free Stock Analysis Report
MarketAxess Holdings, Inc. (MKTX): Free Stock Analysis Report
To read this article on Zacks.com click here.
Zacks Investment Research