When we look at the daily GBP/JPY chart, we don't really see a clear trend simply based on price action, though we can still assess this market with a slight bullish bias since the push from 168 to about 190 is still the dominant move since Q4 2014.
GBP/JPY Daily Chart 3/17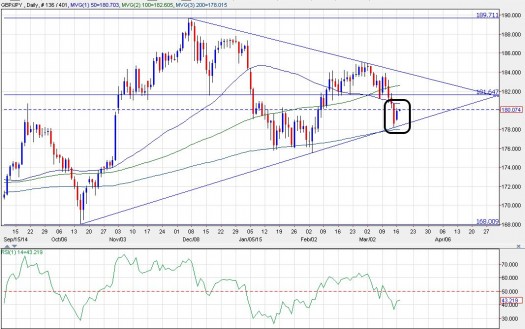 (click to enlarge)
The RSI has oscillated between 30 and 70 and back, which reflects lack of directional momentum. However, price has been able to hold above the 200-day SMA, which tells us that the bulls are hanging on in this market.
Last week, price fell to 178.20 and was threatening the rising trendline from October 2014's low of 168. To start this week, we saw a very small daily candle within the body of Friday's daily candle. This is known as a Harami (pregnant in Japanese). It is quite descriptive because if you take Friday's and Monday's candlesticks together, you see that Monday's candle is the "stomach".
The harami shows that the market is respecting the rising trendline and gives the bullish scenario more weight, especially if the Tuesday candle were to close above Friday's. Now, even if price does close above Tuesday's candle, we should monitor the 181.50-181.60 area for resistance. This is a previous support area, and if the market is in a bearish mode, sellers should be able to reject a rebound around this area. 
If the 3/17 (Tues) candle ends up closing below Monday's, there is a good chance that the market still wants to test the rising trendline. A break below 177.80-178 area would clear the 200-day SMA as well as the rising trendline, which would first open up a commons support near 176 (from a previous consolidation). Below 175, the 168 low from October will come into play.