Shopify Inc. SHOP reported loss of 15 cents per share in second-quarter 2017, which was a nickel narrower than the Zacks Consensus Estimate but wider than 10 cents incurred in the year-ago quarter.

Revenues increased 75% from the year-ago quarter to $151.7 million, comfortably surpassing the Zacks Consensus Estimate of $143 million. The figure was also better than management's guided range of $142–$144 million.

Shopify also raised its 2017 top-line projection and also provided a narrower operating loss guidance range.

We note that Shopify's merchant base continues to expand and recently surpassed 0.5 million. The company continues to add sales channels (Buzzfeed, Wish are now live) to its platform and launch new features, which have been key growth drivers.

Shopify recently announced that it is adding eBay EBAY as a channel, which will enhance its brand value and provide significant exposure in the long run. Management expects the eBay channel to be available to U.S. merchants later this year.

Shares of Shopify have gained 142.8% year to date, significantly outperforming the industry's 20.2% rally. We expect the stock momentum to continue in the rest of 2017 based on the aforesaid factors.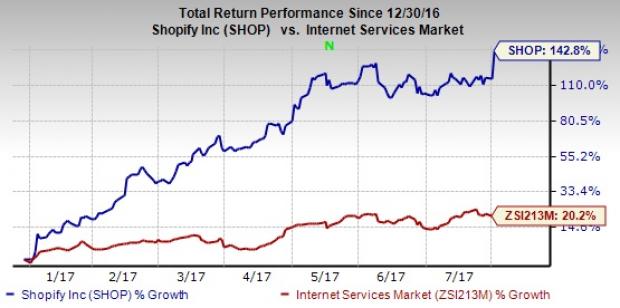 Quarter Details

Subscription Solutions revenues grew 63.9% to $71.6 million. This increase was driven by the continued rapid growth in Monthly Recurring Revenue (MRR).

As of Jun 30, 2017, MRR was $23.7 million, up 64% from $14.4 million as of Jun 30, 2016. Shopify Plus accounted for 4.3 million or 18% of this MRR compared with 13% of MRR in the year-ago quarter.

Merchant Solutions revenues grew 86% to $80.1 million, backed primarily by the growth of Gross Merchandise Volume (GMV), which soared 74% from the year-ago quarter to $5.8 billion. Gross Payments Volume (GPV) grew to $2.2 billion, which accounted for 38% of GMV processed in the quarter, compared with $1.3 billion, or 38%, in second-quarter 2016.

Adoption of merchant solutions continued to grow in the second quarter. Shopify stated that more than 25% merchants shipping from the U.S. and nearly 20% of those shipping from Canada used Shopify Shipping during the quarter. Moreover, total cumulative amount of cash advanced by Shopify Capital reached $86 million as of Jun 30.

Shopify stated that more than 13,000 partners have referred merchants to the platform in the last 12 months, which increased from 12,000 reported in the last quarter. The company added more than 50 Shopify Plus technology partners.

Visa V, Frito-Lay, Jones New York, BuzzFeed, Elvis Presley, Canadian Tire and The New York Times are some companies that launched stores on Shopify in the reported quarter.
Shopify Inc. Price, Consensus and EPS Surprise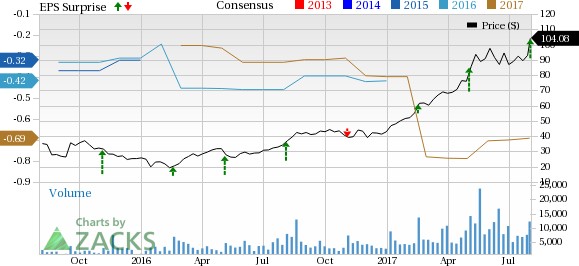 Shopify Inc. Price, Consensus and EPS Surprise | Shopify Inc. Quote
Operating Details
Adjusted gross margin expanded 200 basis points (bps) from the year-ago quarter to 57%. The expansion was primarily driven by robust performance across Subscription Solutions and Merchant Solutions segments. Merchant Solutions also benefited from the expansion of the higher margin Shipping business and increasing Capital offerings.

Adjusted operating loss was $2.9 million, narrower than loss of $3.2 million reported in the year-ago quarter. The figure was also narrower than management's expectation of an adjusted operating loss of $6–$8 million.

Balance Sheet

Shopify ended the quarter with cash, cash equivalents and marketable securities balance of $932.4 million, compared with $395.7 million as of Mar 31 2017. The massive improvement reflects the addition of $560 million net proceeds from Shopify's successful offering of additional shares in the second quarter.

Guidance

For third-quarter 2017, Shopify projects revenues in the range of $164–$166 million. Adjusted operating loss is expected to be in the range of $2–$4 million.

For full-year 2017, management projects revenues in the range of $642–$648 million (up from $615–$630 million).

The adjusted operating loss guidance was narrowed to $7–$11 million from a range of $14–$18 million.

Zacks Rank & Key Picks

Currently, Shopify carries a Zacks Rank #2 (Buy). You can see the complete list of today's Zacks #1 Rank (Strong Buy) stocks here.
A stock worth considering in the industry is Alibaba Group Holding Limited BABA, sporting a Zacks Rank #1.
The long-term earnings growth rate for Alibaba Group is projected to be 28.9%.

More Stock News: Tech Opportunity Worth $386 Billion in 2017

From driverless cars to artificial intelligence, we've seen an unsurpassed growth of high-tech products in recent months. Yesterday's science-fiction is becoming today's reality. Despite all the innovation, there is a single component no tech company can survive without. Demand for this critical device will reach $387 billion this year alone, and it's likely to grow even faster in the future.

Zacks has released a brand-new Special Report to help you take advantage of this exciting investment opportunity. Most importantly, it reveals 4 stocks with massive profit potential.

See these stocks now>>

Want the latest recommendations from Zacks Investment Research? Today, you can download 7 Best Stocks for the Next 30 Days.
Click to get this free report
eBay Inc. (EBAY): Free Stock Analysis Report
Alibaba Group Holding Limited (BABA): Free Stock Analysis Report
Shopify Inc. (SHOP): Free Stock Analysis Report
Visa Inc. (V): Free Stock Analysis Report
To read this article on Zacks.com click here.
Zacks Investment Research