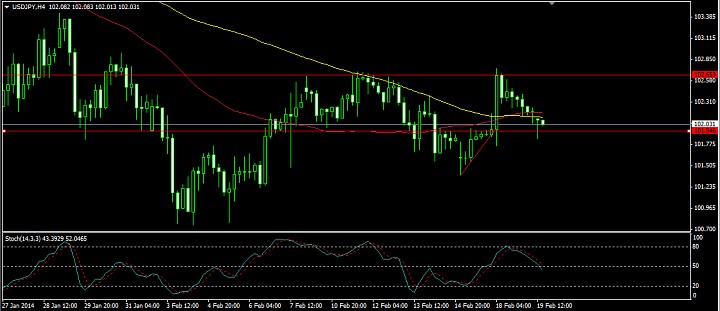 USDJPY yesterday showed some gains on the weakening of JPY but today it trimmed all its gains after the weak US data. The pair yesterday found resistance at 102.65 and started falling from that level continuing its downfall after the Department of Labor and Census Bureau reported PPI and Building Permits respectively.

Census Bureau reported that:
Building Permits in January decreased by 5.4% to 937K from the revised December rate of 991k. Privately owned housing starts in January decreased by 16% to 880K from the revised December estimate of 1048K. Privately owned housing completions in January increased by 4.6% to 814K from the revised December estimate of 778K.
Department of Labor reported that:
The Producer Price Index which is a leading indicator of consumer inflation increased .2% in January,seasonally adjusted.There was a .1% rise in December and no change in November. On an adjusted basis the index moved up 1.2% for year ending January 2014 which is the largest 12 month advance since 1.2% increase in October,2013.
A broader perspective on data shows an improvement in the economy so we can see the effects in the coming months.1st quarter of 2014 might not be strong in terms of Inflation or labor market but we can expect 2nd quarter to show improvement.
On the 4 hour chart of USDJPY, the pair might find support at 101.94 which is previously acting as resistance for the pair.