Microsoft price action in 2015 has been choppy and basically sideways as we can see in the daily chart. The range between roughly 40 and 50 has held for the most part since mid-2014. 

MSFT Daily Chart 10/3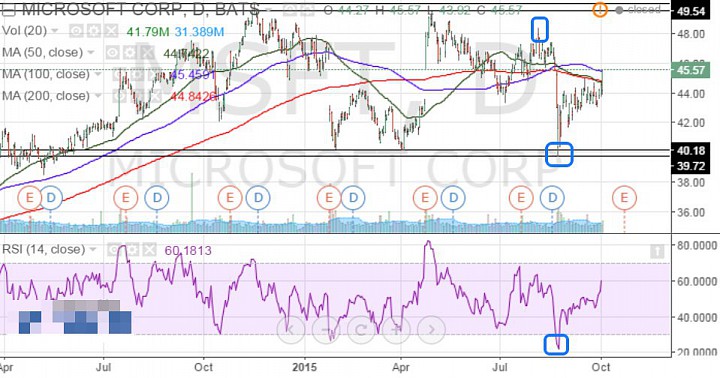 (click to enlarge)
When we look at the daily chart, we can see that price in September bounced off the consolidation range support. This happened after a crack below 40. Bears failed to control the market with that breakout. Instead price has been drifting back up and is now in the middle of the range, around 45. 

I am not convinced about this bullish reaction as an indicator of bullish continuation. In fact, if price does not stay above 45.00 next week, and falls below 43, I would start to look for the bearish scenario, especially if the daily RSI turns down from 60 and falls below 40.

In the daily chart, we can see that at least since Jul 2014, price action has been rising as it got closer to earnings reports, but I think price action is starting to shift away from the bullish mode. The lower price high and the crack of support along with the strong dip in the RSI are the reasons I believe MSFT is shifting towards a bearish outlook.

A failure of price to rally back towards the range highs ahead of earnings would be another bearish clue.