I have been watching the UK macro data very carefully the last half a year as generally the economy has surprised on the upside, which has meant that speculation around the BOE has leaned towards the bank having to tighten policy before it seems ready to do so. Therefore the macro data has been important for the fate of the GBP. Earlier in the week, the manufacturing PMI from the UK was a disappointment and showed that perhaps that sector is seeing a bit of peak to its strong performance from last summer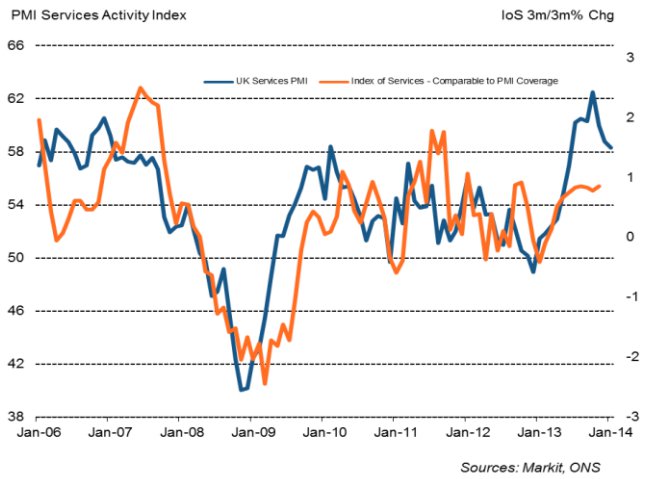 In the services PMI report which is more important than the manufacturing report since it accounts for a much larger portion of the economy was a bit more mixed.
While the index came in cooler than the 59.1 reading expected, and a bit slower than the December reading of 58.8, the 58.3 reading is still strong on its own merits. 
However as we can see from the accompanying Index of Services, activity seems to have peaked in late 2013 as well, though it had reached a very high level and this simply could be a return to a more normal (but still quite positive) pace of activity. We'll have to keep our eye on incoming data.

Of course, market participants are working off of expectations and so the news was a disappointment. However, taking in the fact that the construction PMI was solid yet again in January, the economy continues to be on firm footing in general.