PPG Industries Inc. PPG reported adjusted earnings of $1.83 per share for the second quarter of 2017, up 5.8% from the year-ago earnings of $1.73. The result beat the Zacks Consensus Estimate of $1.81.
Adjusted earnings in the reported quarter exclude one-time items including an after-tax gain from the sale of the Mexican Plaka wallboard business of $24 million, or 9 cents per share; a gain from a legal settlement of $11 million, or 4 cents per share; and after-tax transaction-related costs of $3 million, or a penny per share.
Net sales in the quarter edged up 1% year over year to $3,806 million. Sales missed the Zacks Consensus Estimate of $3,898.6 million.
Unfavorable currency translation affected sales by around 2%. The company witnessed flat sales volume yearoveryear.
PPG Industries, Inc. Price, Consensus and EPS Surprise
Segment Review
Performance Coatings: The segment recorded $2.3 billion in sales and income of $413 million in the reported quarter. Sales fell by less than 2% year over year. Unfavorable currency translation reduced segment sales by about $40 million or 2%. Acquisition-related sales provided benefits of $20 million.
Segment income fell 4% year over year owing to unfavorable foreign currency translation of about $10 million primarily due to the Mexican peso, British pound and euro. Architectural coatings – America and Asia Pacific salesvolumesfell by a low single-digit clip.Marine coatings sales volumes declined by low-double-digit clipwhich was partly offset by gains in global protective coatings.
Industrial Coatings: Sales for the segment were $1.51 billion, up roughly 4% from the prior-year period. Total sales volume rose by around 3%.
Net income for the segment was $264 million, down 10% year over year. Higher sales volumes, strong cost management, including the benefits from business restructuring actions, and acquisition-related income and related synergies were more than offset byincreased raw material costs and lower selling prices. Unfavorable currency impact reduced segment income by $5 million.
Financial Position
PPG Industries ended the quarter with a cash and cash equivalentsof $1,569 million, down 2.2% year over year. Long-term debt fell 9.3% year over year to $3,998 million.
Outlook

PPG Industries expects modest overall global economic growth. Also, the company anticipates a higher level of earnings-accretive cash deployment in the second half of 2017 including acquisitions and share repurchases.
The company announced that it will resume share repurchases from the third quarter. PPG Industries plans to deploy $2.5 billion to $3.5 billion of cash on acquisitions and share repurchases in 2017 and 2018 combined and is now targeting the top end of that range at a minimum.
Price Performance
PPG Industries' shares declined almost 1.7% over a year, underperforming the Zacks categorized Chemicals-Diversified industry's gain of about 16%.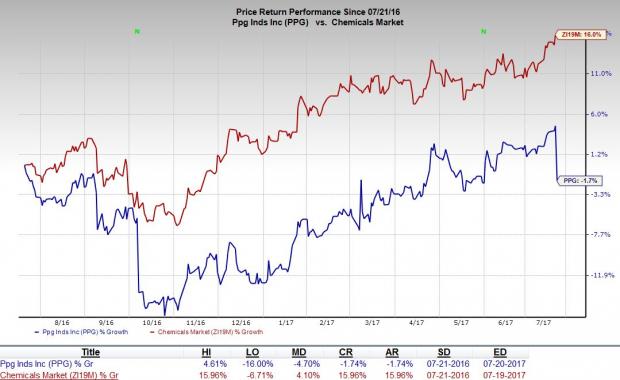 Zacks Rank & Key Picks
PPG Industries currently carries a Zacks Rank #4 (Sell).
Some better-ranked companies in the chemical space are Arkema S.A. ARKAY, Koninklijke DSM N.V. RDSMY and Hitachi Chemical Company, Ltd. HCHMY. All three stocks sport a Zacks Rank #1 (Strong Buy). You can see the complete list of today's Zacks Rank #1 stocks here.
Arkema has expected long-term earnings growth rate of 12.4%.
Koninklijke has expected long-term earnings growth rate of 7.7%.
Hitachi Chemical has expected long-term earnings growth rate of 5%.
3 Top Picks to Ride the Hottest Tech Trend
Zacks just released a Special Report to guide you through a space that has already begun to transform our entire economy...
Last year, it was generating $8 billion in global revenues. By 2020, it's predicted to blast through the roof to $47 billion. Famed investor Mark Cuban says it will produce "the world's first trillionaires," but that should still leave plenty of money for those who make the right trades early. Download Report with 3 Top Tech Stocks >>
Want the latest recommendations from Zacks Investment Research? Today, you can download 7 Best Stocks for the Next 30 Days.
Click to get this free report
PPG Industries, Inc. (PPG): Free Stock Analysis Report
Arkema SA (ARKAY): Free Stock Analysis Report
Koninklijke DSM NV (RDSMY): Free Stock Analysis Report
HITACHI CHEMICL (HCHMY): Free Stock Analysis Report
To read this article on Zacks.com click here.
Zacks Investment Research