Good Morning, it's a big week in US economic data reports.  Today kicks off the week with March's Pending Home Sales at 10:00 AM eastern time. Year over Year is forecasted to come in around -8.83% (previous month actual number was -10.5%; chart below).  Tuesday adds two additional data points with Case-Shiller Home Price numbers and CB Consumer Confidence, 9 AM and 10 AM respectively.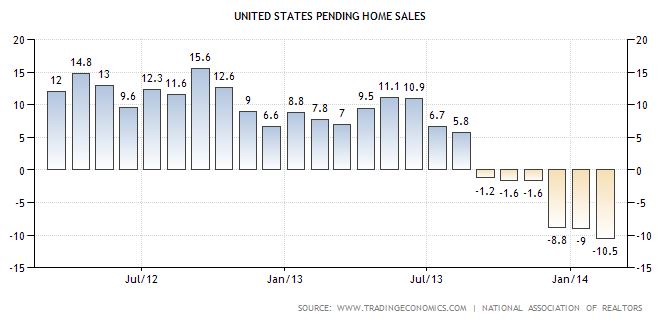 The last three days of the week will have the biggest influence on the markets with the Federal Reserve, US GDP, ISM manufacturing and Unemployment data all being released.  Wednesday kicks off with ADP Employment Change at 8:15 AM followed by GDP Growth Rate at 8:30 AM and finally the Fed speaks at 2:00 PM.  The Fed is expected to announce another $10 billion of tapering, while US GDP data is expected to show the economy expanded 1% in the first quarter.  Thursday is the release of ISM manufacturing numbers which measures business confidence.  It is expected to come in slightly higher than last month's number of 53.7.  Finally, Friday ends the trading week with Non-Farm Payrolls and the US Unemployment Rate reported by the U.S. Bureau of Labor Statistics.  Non-Farm Payrolls is forecasted for growth of 181K jobs and a slight fall in the unemployment rate to 6.5% (chart below).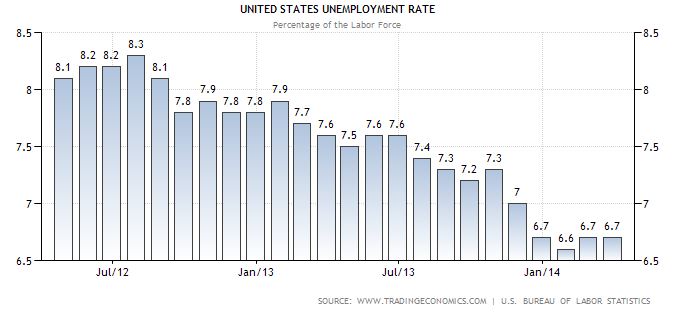 With all the economic data being released and it still being earnings season, the stock and options markets are sure to see a lot of volatility.