We are at the second half of the second-quarter earnings season and per our Earnings Preview, till Jul 28, around 286 S&P 500 members (68.8% of the Index's total market cap) have reported their quarterly numbers.
Putting together these results, we can see that the pace of earnings and revenue growth is steadily accelerating from relative-to-pre-season expectations. The latest scorecard says that the total earnings for these members increased 11.3% year over year on 6.1% higher revenues. While the earnings beat ratio remains at 74.5%, revenue beat ratio stands at 69.2%. With 214 members yet to release their numbers, the total-second quarter earnings for the index are currently expected to be up 9.2% on 5% higher revenues from the year-ago period.
What's in Store for the Medical Space?
Medical, one of the 16 broader Zacks sectors, is absolutely no exception to this trend improvement. So far, 58.2% of the members from this sector has released the quarterly earnings results with earnings and revenue beats standing at very impressive levels of 84.4% and 68.8%, respectively. With more and more companies lining up for their earnings announcement, the aggregate growth pace of this sector is expected to pick up further.
Notably, there are some powerful long-term tailwinds of the medical device industry, including mergers & acquisitions (M&A), emerging market expansion, positive demographic trends and new product innovation. These have been a major driving force behind the sector's impressive performance over the past few quarters even amid severe socio-economic and political instabilities.
Let's analyse how the following two major Medical – Products companies are placed ahead of their announcement on Aug 1.
IDEXX Laboratories, Inc. IDXX: We are upbeat about IDEXX' innovation-based global strategy that is leading to CAG Diagnostics growth. In June, IDEXX announced the addition of rVetLink to its portfolio of technology applications. Notably, rVetLink is an advanced all-inclusive referral management solution designed for specialty care hospitals that simplifies the referral procedure between primary care and specialty care veterinarians. This apart, IDEXX continues to display solid growth with respect to international expansion. We believe, the outcome of these endeavors will be reflected in the company's second-quarter performance, whichis scheduled to release before the market opens.
Our previous article showed that IDEXX was likely to beat on earnings this quarter. However, estimates changed thereafter and we are not certain of a beat this earnings season.
This is because a stock needs to have both a positive Earnings ESP and a Zacks Rank #1 (Strong Buy), 2 (Buy) or 3 (Hold) for this to happen. But that is not the case here as the stock currently carries a Zacks Rank #2 with an Earnings ESP of 0.00%, which makes surprise prediction difficult.
Based on the Zacks methodology, a positive Zacks ESP serves as a leading indicator of a likely earnings surprise, while a bullish Zacks Rank increases the predictive power of the ESP. You can uncover the best stocks to buy or sell before they're reported with our Earnings ESP Filter.
IDEXX Laboratories, Inc. Price and EPS Surprise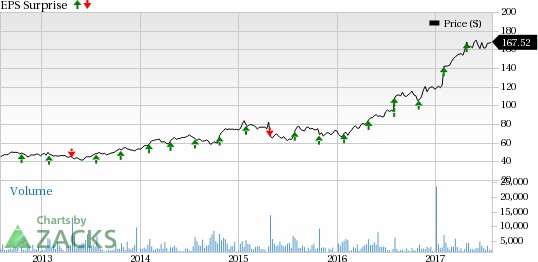 IDEXX Laboratories, Inc. Price and EPS Surprise | IDEXX Laboratories, Inc. Quote
ResMed Inc. RMD: ResMed's efforts to expand business internationally are encouraging. The company's revenue performance across all segments in the third quarter of fiscal 2017 was impressive. We expect the company to maintain a similar trend this quarter as well. However, in the last quarter, currency impacted ResMed's combined EMEA and Asia-Pacific revenues by 3%. This is likely to dent results in the fiscal fourth quarter too.
ResMed is scheduled to report fourth-quarter fiscal 2017 results on Aug 1 after the market closes. The company currently carries a Zacks Rank #2 and has an Earnings ESP of 0.00%. Hence, we are unable to conclude whether ResMed is likely to beat estimates this quarter. You can see the complete list of today's Zacks #1 Rank stocks here.
Note that all Sell-rated stocks (#4 or 5) should never be considered going into an earnings announcement.
(Read More: Is a Surprise in Store for ResMed in Q4 Earnings?)
ResMed Inc. Price and EPS Surprise
More Stock News: 8 Companies Verge on Apple-Like Run
Did you miss Apple's 9X stock explosion after they launched their iPhone in 2007? Now 2017 looks to be a pivotal year to get in on another emerging technology expected to rock the market. Demand could soar from almost nothing to $42 billion by 2025. Reports suggest it could save 10 million lives per decade which could in turn save $200 billion in U.S. healthcare costs.

A bonus Zacks Special Report names this breakthrough and the 8 best stocks to exploit it. Like Apple in 2007, these companies are already strong and coiling for potential mega-gains. Click to see them right now >>
Want the latest recommendations from Zacks Investment Research? Today, you can download 7 Best Stocks for the Next 30 Days.
Click to get this free report
IDEXX Laboratories, Inc. (IDXX): Free Stock Analysis Report
ResMed Inc. (RMD): Free Stock Analysis Report
To read this article on Zacks.com click here.