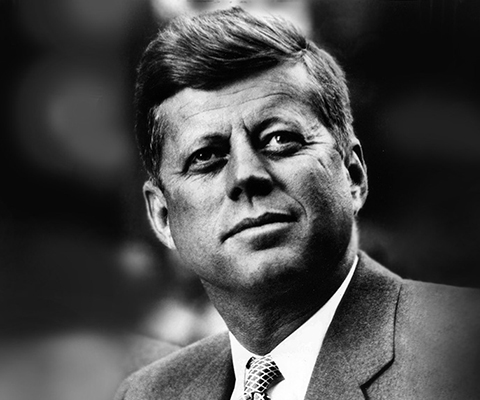 Fifty years ago today, on the floor of the New York Stock Exchange, Michael Robbins heard a murmur. It started at the booth of a Texas firm, Eppler, Guerin & Turner Inc., and got louder, until the 30-year-old trader realized what it was: the sound of a selloff.
In the order room of Thomson McKinnon Securities Inc., a 21-year-old clerk named Arthur Cashin Jr. answered the ringing phone. It was a broker on the exchange floor asking if any news had come over the wire. He'd heard a rumor that something may have happened to the U.S. president. Cashin told him no.
The Dow Jones & Co. news ticker machine in those days was as big as a refrigerator. It chattered, then it spit out paper with the latest breaking news. For special stories, such as company earnings, a bell on the machine would ring. For important economic data, the bell would ring twice. On Nov. 22, 1963, right after Cashin hung up with the trader, it rang three times.
The day President John F. Kennedy was assassinated in Dallas was a day that changed so much. From Texas to the New York Stock Exchange floor where, Robbins said in an interview, the whole world was reflected, those who remember say they'll never forget.
That morning, just like every morning, Robbins said he traded his jacket for the blazer he wore on the exchange floor. Attached was his member number, 718. He put on comfortable shoes. While today most of the exchange's trades are executed by computers in Mahwah, New Jersey, back then Robbins could walk seven miles before quitting time. He would take orders on the phone at the booths that ringed the trading floor, then buy and sell shares at the dozens of posts where specialists oversaw individual stocks, said Robbins, a Bloomberg News contributor who was a floor trader for 40 years and also served on the exchange's board of directors.