For Immediate Release
Chicago, IL – October 23, 2015 – Zacks Equity Research highlights Hawaiian Holdings, Inc. (HA) as the Bull of the Day and Halliburton Company (HAL) as the Bear of the Day. In addition, Zacks Equity Research provides analysis on Amazon (AMZN), Alphabet (GOOGL) and Microsoft (MSFT).
Here is a synopsis of all five stocks:
Bull of the Day:
Hawaiian Holdings, Inc. (HA), the parent of Hawaiian Airlines, continues to cash in on strong travel demand and low fuel prices. This Zacks Rank #1 (Strong Buy) is expected to grow earnings by 95% this year.
Hawaiian is Hawaii's biggest airline. It has been serving the islands for 86 years and offers non-stop service to 11 gateway US cities.
It also has been expanding its international offerings, with service from Japan, South Korea, China, Australia, New Zealand, American Samoa and Tahiti.
Hawaiian also specializes in inter-island travel, with more than 160 daily flights between the Hawaiian Islands.
A Third Quarter Beat
On Oct 19, Hawaiian reported its third quarter results and beat the Zacks Consensus by 10 cents. Earnings were $1.29 compared to the consensus of $1.19.
Lower fuel prices and strong demand is making up for growth in industry capacity between the US west coast and Hawaii as well as the strength of the US dollar.
Adjusted pre-tax margin was 20% compared to just 12.6% in the prior year period.
The company is flush with cash. As of Sep 30, it had unrestricted cash, cash equivalents and short-term investments of $611 million.
Bear of the Day:
Halliburton Company (HAL) continues to feel the pressure of the weak energy industry. This Zacks Rank #5 (Strong Sell) is expected to see declining earnings the next 2 years.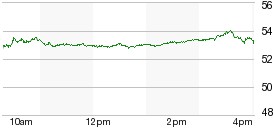 Halliburton provides services and products to the energy industry worldwide. It offers products to customers from exploration to drilling to well construction and completion to optimizing production.
Beat on Earnings in Q3 But Revenue Declined
On Oct 19, Halliburton reported third quarter results and surprised the Street by actually beating the Zacks Consensus by 4 cents.
However, total company revenue fell 6% to $5.6 billion sequentially. North America led the decline, falling 7% sequentially, due to continued declines in activity and pricing pressure.
Mirroring what Schlumberger...
More