Astrazeneca PLC AZN and its partner LEO Pharma received a positive opinion from the Committee for Medicinal Products for Human Use (CHMP) of the European Medicines Agency (EMA). The Committee recommended the approval of brodalumab for the treatment of adult patients with moderate-to-severe plaque psoriasis who are candidates for systemic therapy. We note that the CHMP's positive opinion on brodalumab will be reviewed by the European Commission.
Brodalumab is a human monoclonal antibody that binds to the interleukin-17 (IL-17) receptor and inhibits inflammatory signaling by blocking the binding of several types of IL-17 to the receptor. Also, it prevents the body from receiving signals that may lead to inflammation.
Astrazeneca's shares are up 24% year to date, comparing favorably with an increase of 8.6% witnessed by the Zacks classified Large-Cap Pharma industry.

Notably, the recommendation follows the FDA approval received in Feb 2017 and the approval by the Japanese Pharmaceuticals and Medical Devices Agency, in 2016. In Feb 2017, Astrazeneca and its partner Valeant Pharmaceuticals VRX received approval for brodalumab under the brand name Siliq injection for the treatment of adult patients with moderate-to-severe plaque psoriasis who are candidates for systemic therapy or phototherapy and have failed to respond or have lost response to other systemic therapies.
In fact, LEO Pharma has exclusive rights to develop and commercialize brodalumab in Europe. Additionally, Valeant Pharmaceuticals has the exclusive license to develop and commercialize the antibody, except in Europe, Japan and certain other Asian countries where rights are held by Kyowa Hakko Kirin Co., Ltd through an agreement with Amgen AMGN.
Astrazeneca PLC Price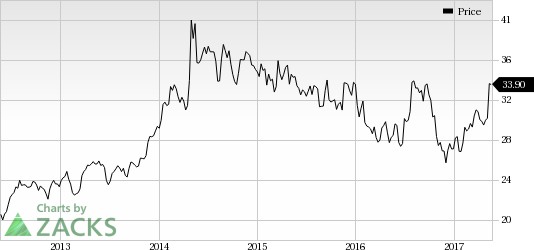 Zacks Rank & Stocks to Consider
Astrazeneca currently has a Zacks Rank #3 (Hold). A better-ranked stock in the health care sector includes VIVUS, Inc. VVUS sporting a Zacks Rank #1 (Strong Buy). You can see the complete list of today's Zacks #1 Rank stocks here.
VIVUS' loss per share estimates narrowed from 50 cents to 39 cents for 2017 over the last 60 days. The company posted positive earnings surprises in all of the four trailing quarters, with an average beat of 233.69%.
Zacks' 2017 IPO Watch List
Before looking into the stocks mentioned above, you may want to get a head start on potential tech IPOs that are popping up on Zacks' radar. Imagine being in the first wave of investors to jump on a company with almost unlimited growth potential? This Special Report gives you the current scoop on 5 that may go public at any time. One has driven from 0 to a $68 billion valuation in 8 years. Four others are a little less obvious but already show jaw-dropping growth. Download this IPO Watch List today for free >>
Want the latest recommendations from Zacks Investment Research? Today, you can download 7 Best Stocks for the Next 30 Days.
Click to get this free report
Astrazeneca PLC (AZN): Free Stock Analysis Report
VIVUS, Inc. (VVUS): Free Stock Analysis Report
Amgen Inc. (AMGN): Free Stock Analysis Report
Valeant Pharmaceuticals International, Inc. (VRX): Free Stock Analysis Report
To read this article on Zacks.com click here.
Zacks Investment Research