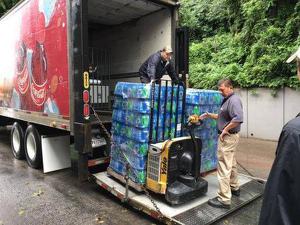 COLUMBIA, S.C.--(BUSINESS WIRE)--
As the Palmetto statestarts to process the devastating effects of 1000-year record level of flooding, Coca-Cola Bottling Co. Consolidated (CCBCC) contributed to aid efforts by directing all of its South Carolina resources to helping people affected by the storm.
This Smart News Release features multimedia. View the full release here: http://www.businesswire.com/news/home/20151006006924/en/
On Sunday evening, CCBCC reached out the South Carolina division of the American Red Cross. From there, a plan was set in motion to coordinate delivery of more than 43,000 bottles of Dasani to the Red Cross warehouse on Clemson Road. Additional deliveries were made to NewSpring Church, USC Russell House, Richland Memorial Hospital...
More