Hedge funds extended this year's longest exit from bullish gold bets as slumping prices and investor outflows since June erased $7.16 billion from the value of exchange-traded funds backed by the metal.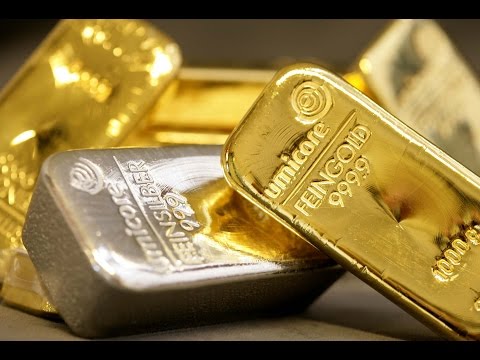 The net-long position in New York futures and options fell for a fifth straight week, with speculators boosting short bets to the highest since June, U.S. government data show. Investors sold 17.88 metric tons of gold held in ETPs last week, sending holdings to the lowest in five years.
Prices tumbled to an eight-month low today after the Federal Reserve last week raised its outlook for interest rates, crimping demand for an inflation hedge. The appeal of gold also is waning as the U.S economic recovery sends the Standard & Poor's 500 Index of shares to a record and the dollar to the highest since 2010. Gold's 60-day volatility is near a four-year low, and open interest was almost the lowest since 2009.
"There are no compelling reasons to be in gold," said Brian Levitt, a New York-based economist at OppenheimerFunds Inc., which manages $251.4 billion. "There are no inflationary pressures. You have a central bank that's going to tighten sooner than most of its trading partners. That to me portends a strong dollar and weaker gold prices."
Futures fell 1.2 percent last week to $1,216.60 an ounce on the Comex, the third straight decline. The Bloomberg Commodity Index of 22 raw materials slipped 1.5 percent last week, and retreated to a five-year low today, while the MSCI All-Country World Index of equities climbed 0.5 percent. The Bloomberg Dollar Spot Index rose 0.5 percent.
Shorts Jump
The net-long position in gold declined 22 percent to 55,716 futures and options in the week ended Sept. 16, the lowest since mid-June, U.S. Commodity Futures Trading Commission data show. Theholdings are down 58 percent in five weeks, the steepest and longest reduction since December. Short positions, or bets on a price decline, increased 18 percent last week to 69,243 contracts.
Assets in the SPDR Gold Trust, the biggest ETP backed by bullion, slipped last week to 776.44 tons, the lowest since December 2008. The holdings are down 2.3 percent in September, heading for the biggest monthly drop since April. Worldwide ETP holdings fell 3.8 percent this year to 1,696.34 tons as of Sept. 19, the lowest since 2009.
Gold is heading for its first quarterly loss this year. The Fed on Sept. 17 reduced monthly bond purchases to $15 billion, keeping it on track to announce an end to the program in October. Policy makers also raised their median estimate for the federal funds rate at the end of 2015 to 1.375 percent from 1.125 percent in June.
In 2013, bullion fell 28 percent to halt a 12-year rally as some investors lost faith in the metal as a store of value. Inflation expectations, measured by the five-year Treasury break-even rate, last week reached the lowest since December.
Spur Buying
Lower prices may help to spur physical demand for the metal. Sales of gold coins by the U.S. Mint reached 39,500 ounces so far in September, heading for the best month since June and topping August's total by 58 percent.
The expansion of trading hubs in Asia will help boost demand in China by 20 percent in three years, Aram Shishmanian, chief executive officer of the World Gold Council, said in a Sept. 18 statement. The country, which overtook India as the biggest buyer last year, last week gave foreign investors direct access to its bullion market for the first time.
"We are seeing a gradual return of retail buyers," said George Gero, a New York-based precious-metals strategist who helps manage $500 million at RBC Capital Markets LLC. "These prices are very attractive, and we will see more buying out of China and India ahead of the festival and marriage season. This year has witnessed a lot of political turmoil, and people want to hedge against the bad things happening in the world."
Commodity Bets
Net-wagers across 18 U.S. traded commodities dropped 2.2 percent to 500,421 contracts as of Sept. 16, the lowest since August 2013, CFTC data show.
Bets on higher oil prices rose 9.1 percent to 203,648 contracts, the second straight advance. West Texas Intermediate crude advanced 0.2 percent last week to $92.41 a barrel.
Copper wagers were net-long 805 contracts, after being net-short 2,077 a week earlier, the data show. The world's biggest user of the metal is China, where the People's Bank of China is injecting 500 billion yuan ($81 billion) into the nation's five biggest banks, according to a government official familiar with the matter.
Crop Holdings
A measure of net-long positions across 11 agricultural commodities was at 244,803 contracts, up 3.2 percent from a week earlier, the government data show. Holdings are down 78 percent from this year's peak in April.
Investors have the most-negative outlook on wheat since July, with a net-short holding of 67,266 contracts. Corn and soybean prices fell to four-year lows today on signs of ample global supplies, while wheat tumbled to the lowest since June 2010 on Sept. 19.
Farmers worldwide will harvest a record 719.95 million tons of wheat, helping to boost global stockpiles to a three-year high, the U.S. Department of Agriculture estimated Sept. 11. The agency expects growers will collect the biggest domestic corn and soybean crops ever.
"Everything comes back to fundamentals in the agricultural sector," said Mayer Cherem, who helps manage $9.6 billion as head of opportunistic investments at Pacific Alternative Asset Management Company LLC. "There is a lot more downside in the soybean market, and corn prices will also weaken. The global crop situation is very comfortable, and there are expectations of big harvests this year for most of the crops."