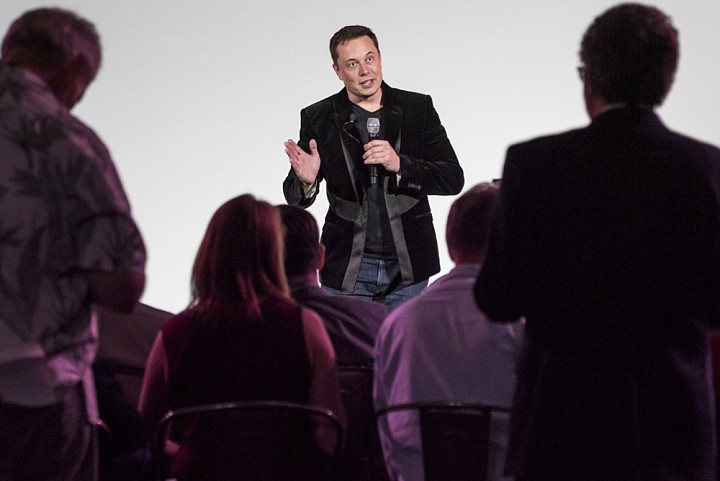 Tesla's ever-growing ambitions fuel concerns about cash burn
The billionaire's 'Master Plan, Part Deux' doesn't wow all
The hints, the tweets, the will-he-or-won't-he suspense. It was classic showman Elon Musk.
Then his much-hyped 1,500-word manifesto dropped and -- whiff. The maestro may have struck out. His groupies still idolize the billionaire-genius behind PayPal, SpaceX, Tesla Motors Co. and SolarCity Corp., the dreamer who wants to build hyperloops and colonize Mars. But recently, puffs of doubt have begun to surround the inspiration for Tony Stark in the "Iron Man" movies. After mesmerizing Wall Street for years, investors are starting to look for him to do something new: deliver financial results, or at least a road map for them.
The skepticism was on full display Thursday, after he unveiled his latest "master plan" to more than a few yawns. Tesla's stock price slipped 3.4 percent to close at $220.50.
The company had no comment about the decline in shares or criticism from investors. "What Elon said yesterday stands," said a Tesla spokesperson in an e-mail. Three board members did not respond to request for comment.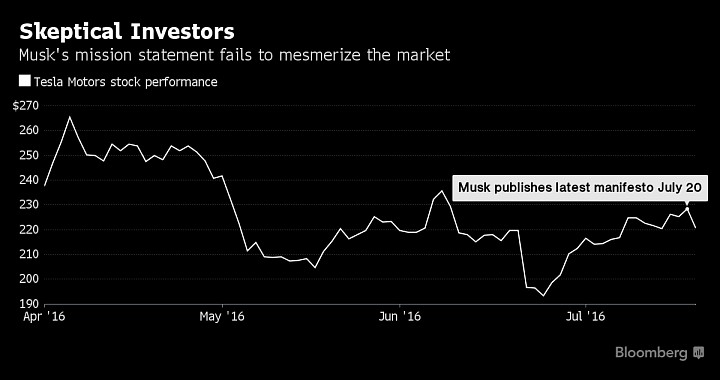 Quintessential Musk, the mission statement he posted Wednesday night was long on futuristic vision and short on details about things like how he'll get his hands on the vast sums of cash he'll need to execute all his ideas -- for a new company blending Tesla and SolarCity, for an integrated solar-battery product, for electric buses and trucks, for autonomous ride-sharing fleets.
"There is no real meat to chew on here," said Dave Sullivan, an analyst at AutoPacific Inc., "which should only fuel skepticism and concern for cash burn." Without details about timelines and financing, said Bloomberg Intelligence auto analyst Steve Man, "It is all just noise."
'Elon's Brain'
That's blasphemy to devotees in his fervent fanbase of early Tesla vehicle owners, many of whom are also investors. The 45-year-old enjoys cult-like status across...
More