Back in August, we brought you the story of 1MDB, the Malaysian development bank turned-Najib slush fund with deep ties to Goldman. We'll recount the history of the fund here not only because it's key to understand what's taking place now, but because it quite frankly is quite amusing. Here's how we summed it up two months ago in the wake of street protests calling for the prime minister's ouster in connection with an investigation into the fund:
1MDB was set up by Najib six years ago and has been the subject of intense scrutiny for borrowing $11 billion to fund questionable acquisitions. $6.5 billion of that debt came from three bond deals underwritten by Goldman, whose Southeast Asia chairman Tim Leissner is married to hip hop mogul Russell Simmons' ex-wife Kimora Lee who, in turn, is good friends with Najib's controversial wife Rosmah Manso.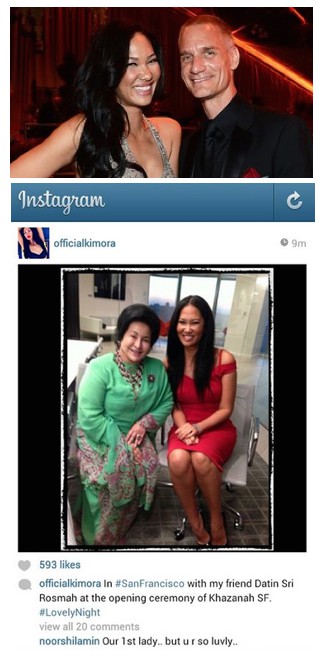 You really cannot make this stuff up.
What Goldman did, apparently, is arrange for three private placements, one for $3 billion and two for $1.75 billion each back in 2013 and 2012, respectively. Goldman bought the bonds for its own book at 90 cents on the dollar with plans to sell them later at a profit (more here from FT). Somewhere in all of this, $700 million allegedly landed in Najib's bank account and the going theory is that 1MDB is simply a slush fund. 
So you can see why some folks are upset, especially considering Rosmah has a habit of having, how shall we say, rich people problems, like being gouged $400 for a home visit by a personal hairstylist. 
In the nearly two months since, WSJ has kept the heat up, penning a series of articles that dive deep into the rabbit hole.
In one instance, the UAE went looking for a $1.4 billion collateral payment a subsidiary of an Abu Dhabi wealth fund supposedly received from 1MDB and couldn't find it. This same subsidiary - whose manager was fired earlier this year -  guaranteed $2.3 billion in mystery money that 1MDB claimed was parked in the Cayman Islands in order to secure a sign-off from Deloitte after KPMG was dismissed as 1MDB's auditor for asking too many questions. Subsequently, another $993 million turned up missing. Ultimately, the future of Najib's political career will likely depend on how it all shakes out especially considering the now contentious relationship between Najib and influential former PM Mahathir Mohamad.
Late last month, the FBI announced an investigation into the fund after Malaysia arrested a former official who was trying to fly to New York to urge US authorities to look into the whole debacle.
Now, as WSJ reports, the FBI and DOJ are looking into Goldman's role. Here's more:
Goldman Sachs Group Inc.'s role as adviser to a politically connected Malaysia development fund resulted in years of lucrative business. It also brought exposure to an expanding scandal.




As part of a broad probe into allegations of money laundering and corruption, investigators at the Federal Bureau of Investigation and the Justice Department have begun examining Goldman Sachs's role in a series of transactions at 1Malaysia Development Bhd., people familiar with the matter said.




A few years before the Malaysia deals, Goldman did a series of controversial transactions with the Libyan Investment Authority that also brought unwelcome attention. The Libyan sovereign-wealth fund claimed in a lawsuit filed in 2014 in London that the bank took advantage of its unsophisticated executives to sell them complicated and ultimately money-losing investments. Goldman has said the claims are without merit. A trial in the suit is scheduled to begin next year.




The bank earned $350 million for executing nine trades for Libya, according to the investment authority. It earned far more from the Malaysian fund. The bank was consulted during 1MDB's inception, advised it on three acquisitions and arranged the sale of $6.5 billion in bonds that alone brought in close to $600 million in fees, according to people close to the bank.




Malaysia was an early area of success for Goldman, which had strong relationships in the country. Tim Leissner, Goldman's top banker in Southeast Asia who was close to Mr. Najib, according to people familiar with the matter, and Roger Ng, a Malaysian sales executive who has since left the bank, did deals for the government and companies throughout the last decade.




In 2009, when the sultan of the state of Terengganu, also Malaysia's king at the time, was launching a fund to invest its oil wealth, Mr. Leissner was called to the royal palace to pitch the king for the business, according to people close to the bank. Goldman won the bidding to advise the fund, which would soon be taken over by the national government and named 1Malaysia Development Bhd.
Enter Andrea Vella. The same Andrea Vella who made some $350 million for Goldman convincing Muammar Qaddafi to sink $1.2 billion of Libya's sovereign wealth fund into derivatives deals that eventually went bust in the wake of the crisis. Back to the Journal:
A key arranger of the financing for 1MDB was Andrea Vella, an Italian-born senior Goldman banker, people familiar with the transactions said. He was also involved in structuring the Libyan deals, according to people familiar with the matter. This spring, Mr. Vella, 42 years old, was promoted to co-head of investment banking in Asia excluding Japan.
Vella apparently arranged the financing described at the outset wherein Goldman simply underwrote bond deals, bought the bonds for its own book at a discount, and then presumably sold them later, pocketing the difference. 
In Malaysia, one of Goldman's big assignments came in 2012, when it advised 1MDB on the acquisition of Malaysian conglomerate Genting Bhd.'s domestic power-generation business. The deal quickly turned into a loser for 1MDB, which paid 2.3 billion ringgit for the business, about $740 million at the time.

 

In its financial statements for the year, 1MDB booked an impairment charge of 1.2 billion ringgit, writing down part of the premium for the power assets it had bought from Genting and another Malaysian company.

 

Goldman also helped 1MDB raise $1.75 billion in bonds to finance the deal with Genting. The Malaysian fund wanted to move quickly with the issuance and decided to do a private placement, instead of a public offering, people familiar with the matter said.

 

Mr. Vella, who had moved to Asia in 2010 to help build the bank's debt and structured-finance business in the region, arranged to do the financing via Goldman's Principal Funding and Investment desk, a group that uses the bank's own money to provide financing to clients. Goldman essentially wrote a check to 1MDB, took the bonds onto its balance sheet, hedged and sold over time for a profit, these people said.
The bank did the same thing with a subsequent deal in which some $3 billion in debt was issued. 
Pretty clearly, between everything described above, 1MDB was, from the beginning, a vehicle wherein anyone and everyone involved simply skimmed money off the top on the way to financing dubious transactions of questionable value.
While it's difficult to say if Goldman will ultimately be held accountable for its role, it is worth noting that the Libya fiasco involving Vella wound up in court. But perhaps the most important thing to remember here - as mentioned above - is that this could very well cost Najib his career (and his legacy) and while there's certainly plenty of domestic support for his ouster, the market hates uncertainty, and as we've seen in Brazil, political turmoil breeds jittery investors.