Today, Statcan released data on retail sales in Canada for the month of July. It is a bit outdated, but still should be monitored an important indicator of demand in the economy. 

CAN Retail Sales m/m (July): -0.1%
Forecast: 0.4%
Previous: 1.2%

Core CAN Retail Sales (July): -0.6%
Forecast: -0.1%
Previous 1.5%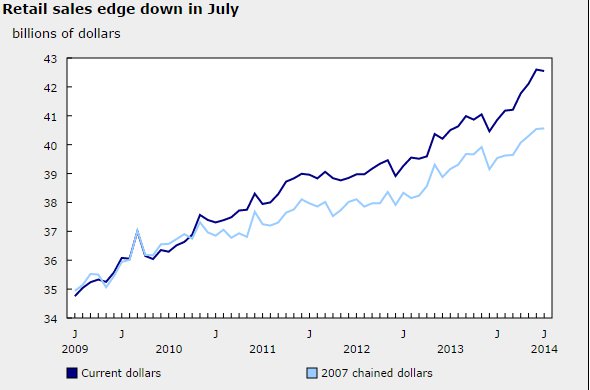 (click to enlarge; source: statcan)

After a strong reading in June, retail sales slumped in July, worse than average forecasts. The headline reading, and the core reading, which excludes the transportation component, fell for the first time this year. 

The underlying trend is still improving especially in 2014. However in July, there were lower sales at general merchandise stores. There were gains in the auto-industry. Thus the core reading is much worse. 

Ahead of the data points, USD/CAD was falling from this week's high around 1.1050. Price was pressing below a rising trendline from Friday, and was at the cluster of 200-, 100-, and 50-hour SMAs. It was testing the resolve the bulls. 

The market was bullish immediately following the release of disappointing Canadian retail sales data. However, we are seeing USD/CAD struggle to push above the 1.1050 high. Now, if price breaks below 1.0985, we have a strong bearish signal because it was able to withstand CAD-negative data. In that scenario, we should limit the bearish outlook to the 109.30 area, because there is a prevailing bullish trend, and there was a bullish breakout to start the week.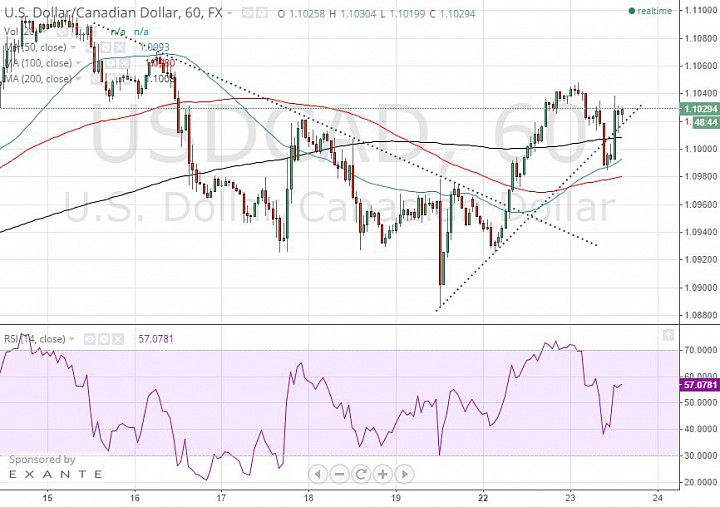 (USD/CAD 1H Chart 9/23)