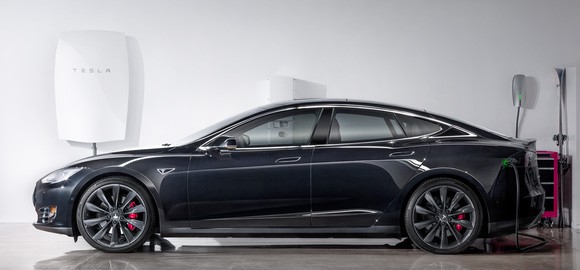 The auto industry is just the first, and most visible, domino in a number of industries that will be upended by falling battery prices. A report by Bloomberg New Energy Finance and McKinsey & Co., cited by Bloomberg , found that the average battery-pack price fell 65% from $1,000 per kWh in 2010 to $350 per kWh last year. It even came out last year that General Motors (NYSE: GM) is paying LG Chem (NASDAQOTH: LGCLF) just $145 per kWh for battery cells to make packs for the upcoming Chevy Bolt.
The massive decline in battery costs is already gaining battery-electric vehicles a share of the overall new-vehicle market. But don't underestimate the adjacent industries that will open up as innovators learn how energy storage creates new opportunities.
The electric vehicle will drive battery prices lower
Scale is the first cost-reduction driver for batteries, and it has driven most of the 65% decline in costs in just five years. And as demand for electric vehicles grows, costs will continue to fall. According to Bloomberg New Energy Finance, just 52,000 EVs were sold in 2010; that number was up to 448,000 last year. By 2018, Tesla Motors (NASDAQ: TSLA) alone plans to sell 500,000 EVs, so the scale is becoming much bigger.
The cost reductions won't just help grow the adoption of electric vehicles -- they will open up a world of innovation in energy storage, which Tesla has its eye on as well.
Energy storage finally becomes a real thing
The first adjacent market to benefit from the falling cost of batteries is energy storage. Tesla Motors has been most vocal about moving into this market with lithium-ion batteries, but companies like Stem, AES Energy Storage, and Sunverge have been expanding in energy storage as well.
GTM Research estimates the U.S. energy-storage market will grow from just 226 MW in 2015 to 2,081 MW by 2021, as battery costs come down and regulatory...
More