Durable goods orders
surprised, coming in with a 22.6% growth in July. Forecasts called for a reading around 7.8%. The June reading was revised up from 0.7% to 1.7%. Don't get too excited though, this is entirely attributed to a surge in orders for airplane, which is not likely to be sustained. When you exclude the transportation component, core durable goods came in at -0.8%. This disappointed forecasts calling for around a 0.5% growth. The June reading was upwardly revised to 1.9% from 0.8%.
Core Durable Goods since 2006:



(click to enlarge; source: forexfactory.com)
While the -0.8% should not be too alarming, it does show a lack of consistent growth. Therefore, today's durable goods data should be seen as neutral despite the surge in the orders for airplanes.
Conference Board's Consumer Confidence improved in August, from 90.3 reading in July to 92.4. Forecasts called for a slight slide to 89.1. We saw 4 consecutive months of growing sentiment pushing this index to a level not seen since Oct. 2007, almost at the levels before the financial crisis. 
Conference Board Consumer Confidence

(click to enlarge; source: forexfactory.com)

The data points were generally positive, but the USD did not move much. The USD Index still shows consolidation roughly between 82.45 and 82.63. The bullish bias still remains as price trades above the 200-, 100-, and 50-hour simple moving averages (SMAs), and above a rising trendline from week. The 1H RSI is still holding above 40. Thus the outlook remains bullish with the 83.00 handle in sight. A break below 82.40 can open up to further consolidation in the short-term. However, USD Index is extremely bullish, and a break below 81.25 will be needed to discontinue if not reverse the outlook.
USD Index 8/26 1H Chart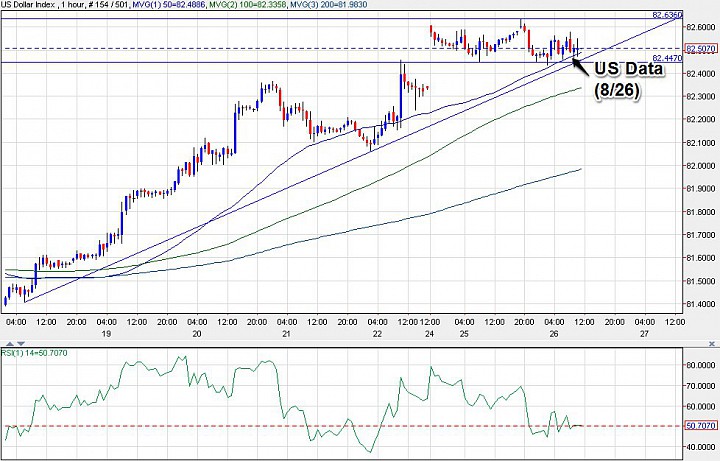 (click to enlarge)