Dunkin' Brands Group Inc `(NASDAQ: DNKN)

Starbucks Corporation (NASDAQ: SBUX)

U.S Locations

7,200

11,000

World Wide

10,000

20,000

Year Founded

1950

1971

NYC Locations

350

240

Stock Price

$42.91

$71.51

Market Cap

$4.56 billion

$53.77 billion

Revenue

$677.77 million

$14.46 billion

Net Income

$128.45 million

$1.60 billion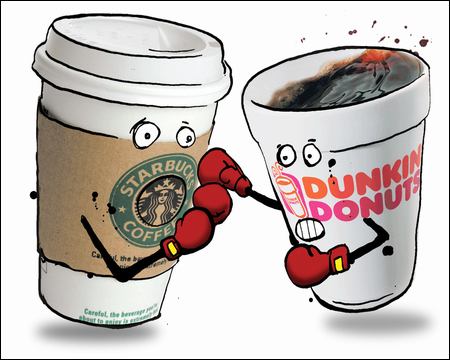 As you can see from the comparison chart above Starbucks is twice the size of Dunkin in terms of locations and stock price. Starbucks Market Cap is almost 12 times Dunkin's, as well as revenue and net income beating Dunkin by a wide margin. Dunkin was founded 21 years before Starbucks, they had a two decade head start but still fall far behind the competition. This could have been due to bad management or bad locations, either way they are left behind playing catch up. Both companies are growing in terms of location and revenue every year. The one thing I found interesting while doing this comparison was Dunkin keeps 18.95% of its total revenue as profits while Starbucks keeps only 11.07%. To me this means that once Dunkin does catch up they will be making more profit then Starbucks.