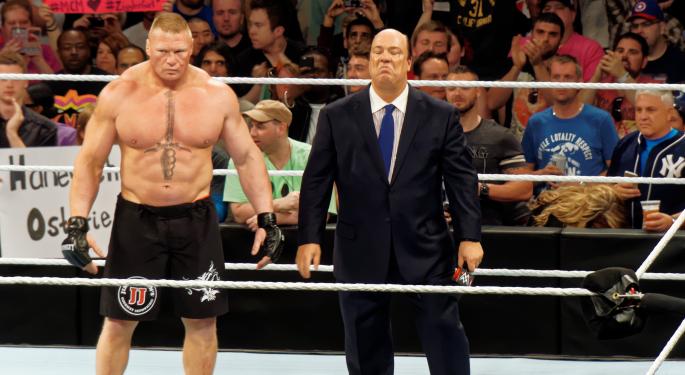 World Wrestling Entertainment, Inc. WWE 4.87% shares closed at their highest level in eight months. On Monday afternoon, WWE pushed through the $20 level for the first time since September 2015.
The stock was boosted after the UFC sold itself to a consortium of investors led by the William Morris Endeavor (WME) talent agency for $4 billion. Other members of the group include MSD Capital, KKR and Silver Lake. While industry expert Darren Heitner said "a short term boost is often the result of this type of news," one analyst sees this having a bigger impact for WWE.
Wells Fargo analyst Eric Katz thinks WWE could be worth $36-$44 per share, according to a post on Street Insider. To Based on UFC's EBITDA margins of 20-25 percent for 2012-2014, they believe the company generated $120-150 million in EBITDA for 2015. This puts the sale at a valuation of 26.7-33.3x UFC's 2015 EBITDA.
Applying this multiple to Wells Fargo's 2017 EBITDA estimate for WWE of $102.8 million, they get an equity valuation of $2.7-3.4 billion ($36-44 per share).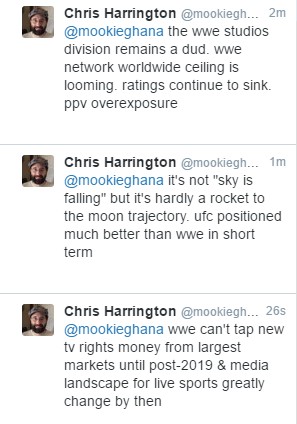 The most glaring differences between these companies, according to Katz:
UFC is sport, while WWE is sports entertainment
UFC relies much more heavily on the Pay-Per-View model
The biggest similarities:
Combat sport[s] with top athletes, and have some overlap in its fanbase
PPV offerings
TV rights contracts to appear on cable (and broadcast for the UFC)
A streaming OTT network
A significant presence in retail and video games
Date
Firm
Action
From
To
Jun 2016
KeyBanc
Maintains
Overweight
Apr 2016
Pacific Crest
Maintains
Overweight
Apr 2016
KeyBanc
Maintains
Overweight
© 2016 Benzinga.com. Benzinga does not provide investment advice. All rights reserved.