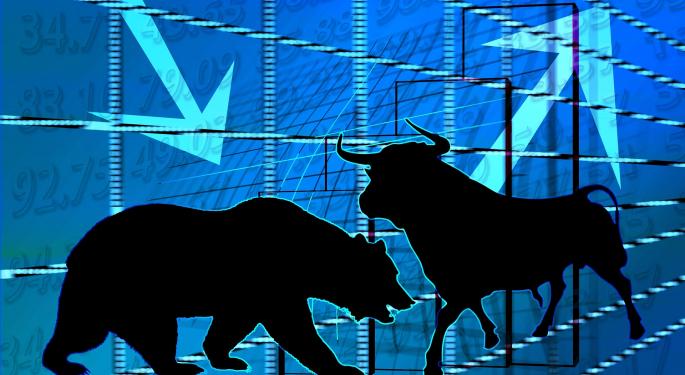 After a brutal winter, is a warm summer coming for biotech? Citi's Robyn Karnauskas and Vice President Mohit Bansal asked in a report issued Tuesday.
There is wide underperformance of the NASDAQ Biotechnology Index and the NYSE ARCA PHARMACEUTICAL INDEX versus the S&P 500 since 2013. While the NBI Index has managed to recuperate since its February lows, most large-cap stocks remain under pressure. On the other hand, the NYSE ARCA BIOTECH INDEX has been doing a lot better than the NBI Index, suggesting that S-mid caps could have been outperforming large caps.
However, post-earnings season weakness has gotten the biotech sector to give up the gains delivered at the beginning of the second quarter of 2016. One of the stocks impacting strongly on the index's performance was Gilead Sciences, Inc. GILD 1.48%, which is down more than 18 percent year-to-date, and almost 16 percent in the last month.
Taking this post earnings weakness into account, it's hard to tell if a recovery has started, Karnauskas and Bansal said. Nonetheless, their "analysis of past weaknesses indicate that current NBI pullback is the worst Biotech weakness in recent history. It's even worse than 2008." This leads the experts to believe the bottom may be quite close.
"Typically it takes twice as much time to recover after such a pull back," they explained, adding that the current one took 31 weeks to hit its February bottom.
Since the NBI hit its lowest, 14 weeks have passed. "Going by the history it may be one more year before we get to July'15 Levels. We currently are 37% below the highs of July'15," Citi explained.
Individual Stocks
The analysts went on to look into individual stocks, noting that Amgen, Inc. AMGN 2.17%, Biogen Inc BIIB 2.65%, Gilead, Celgene Corporation CELG 1.29%, Regeneron Pharmaceuticals Inc REGN 2.06% and Alexion Pharmaceuticals, Inc. ALXN 2.78% are all trading just 20 to 35 percent above the firm's bear case or "worst case valuation."
Going forward, Citi analysts like Celgene, Biogen and Regeneron due to the visibility and potential of their pipelines. Celgene is the firm's top growth pick. In terms of value, the pick is Gilead.
The first table below provides a look into Citi's re-ranking of biotech stocks. The second one includes "upside/downside for major catalysts."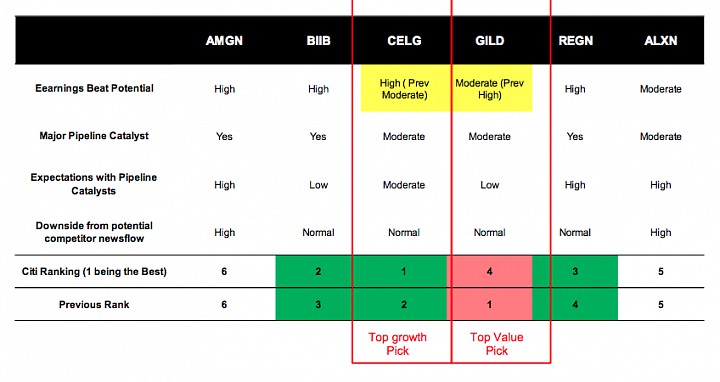 Source: Citi Research

Source: Citi Research and FactSet
Date
Firm
Action
From
To
Apr 2016
Wells Fargo
Downgrades
Outperform
Market Perform
Apr 2016
Leerink Swann
Maintains
Outperform
Apr 2016
Roth Capital
Maintains
Buy
© 2016 Benzinga.com. Benzinga does not provide investment advice. All rights reserved.