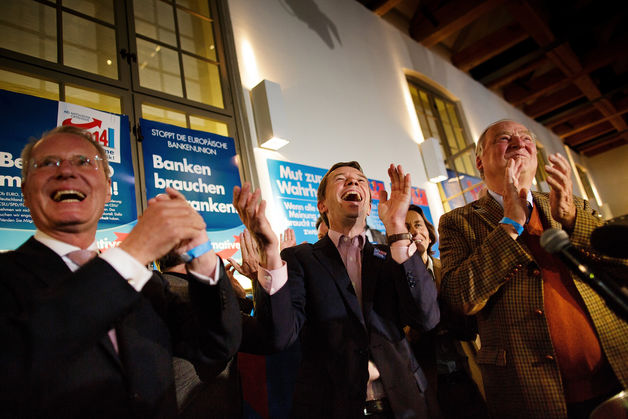 Photographer: Carsten Koall/Getty Images
Germany's anti-euro party swept into two eastern state parliaments, expanding its challenge toChancellor Angela Merkel in a region mostly dominated by her Christian Democrats since theBerlin Wall fell 25 years ago.
As Alternative for Germany drew protest voters from across the political spectrum, Merkel's party was within reach of holding Thuringia and the Social Democrats won re-election in Brandenburg in regional elections yesterday, according to projections by public broadcasters ARD and ZDF.
Alternative for Germany, founded last year with a platform of dismantling the euro area, was projected to take 12 percent in Brandenburg and 10 percent in Thuringia. The party, known as AfD, won its first state parliament seats in Saxony last month.
"This gives us huge momentum," party leader Bernd Lucke said in televised comments. "We won't just sit back and let the other parties spout their empty rhetoric."
In a sign of a possible shift of the political landscape in Europe's biggest economy, the AfD's ascent mirrors the decline of the Free Democratic Party, a traditional junior partner of both Christian Democrats and Social Democrats. Merkel has ruled out alliances with the AfD, which failed to win seats in national elections on its first try last September.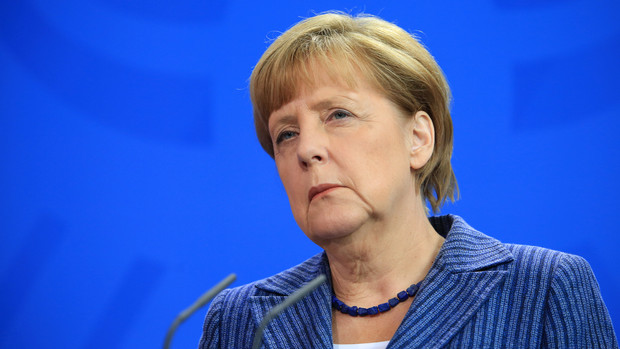 Merkel, who grew up under Communism and is Germany's first chancellor from the east, faces a second challenge in Thuringia: voters handed the successor party to the former East German communists a chance to lead a state government for the first time since German reunification in 1990, even as CDU state premier Christine Lieberknecht won the most votes.
Marx's Return
Ousting the Christian Democratic Union, which has governed the state since reunification, would require the SPD to jump ship as junior partner and back a government with the anti-capitalist Left party and the environmentalist Greens.
Merkel raised the specter of a Left-led government, telling a rally on Sept. 12 that such an option would bring "Karl Marx into the state premier's office."
The CDU took about 33.5 percent in Thuringia, while the SPD dropped to about 12.5 percent from 18.5 percent five years ago, according to the projections. The Left, formed in 2007 from the successor of the East German communist party and a group of union members and activists, was second at 28 percent.
In Brandenburg, the SPD was poised to stay in power after taking the most votes with 32 percent. It could continue its five-year coalition with the Left, whose support was projected to slip to less than 19 percent from 27 percent in 2009.
Alternative for Germany forced Merkel to take on issues such as immigration and crime on Germany's eastern border as it advanced into the CDU's political territory. On the campaign trail, Merkel warned that refugees must obey German law and took up the law-and-order theme.
"It can't go on as it is today," she said on Sept. 12 in Cottbus, an eastern city 30 kilometers (20 miles) from the Polish border. "We're a country that welcomes people from other lands, but that means everybody has to abide by our laws -- and those who don't have to face the full force of the law."
Article