On the surface, Twitter's Q4 numbers were good, with the company clocking in $479MM in revenue and $0.12 in EPS on consensus estimates of $454MM and $0.06. Of course, on a GAAP basis things were much uglier, with the company reported a loss per share of $0.20 cents in Q4, and a net loss of $577.8 million for 2014. However, as everyone knows, TWTR's value is not about its numbers, or rather adjusted numbers, but its user growth: after all the company has about a billion monthly active users it needs to catch up in order to compete with Facebook in total user engagement. And it was here that the company stumbled.
As the chart below shows, in Q4, the company reported 288MM MAU, which while an increase of 20% from a year ago, but just 2% higher than Q3 - the smallest sequential increase in Twitter's recent history - and was also well below the estimate of 295MM. And more problematic, TWTR's US users, the bread and butter of corporate ad revenues, were 63MM, up 17% from a year ago, but unchanged from the previous quarter: also the first time there has been no quarterly growth in the US in company history. 
To be sure, the company quickly tried to cover up this big miss by saying the 288 million number "reflects a loss of approximately 4 million net Monthly Active Users in the fourth quarter due to changes in third party integrations." It was unclear what this means or how TWTR quantified how many users it "would have gained if"...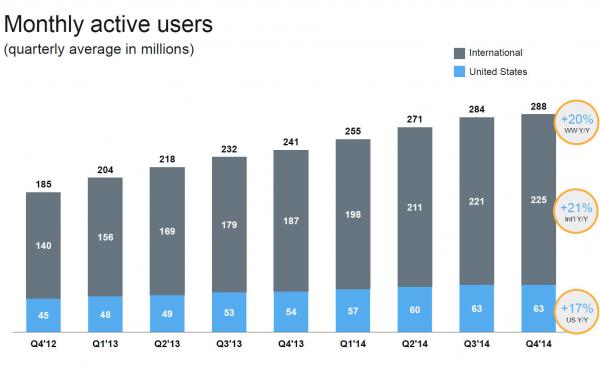 This means that TWTR's favorite non-GAAP metric, "timeline view/MAU" is now in clear stall mode having declined for two quarters in a row both globally and internationally, with the US posting a modest increase from 774 to 778.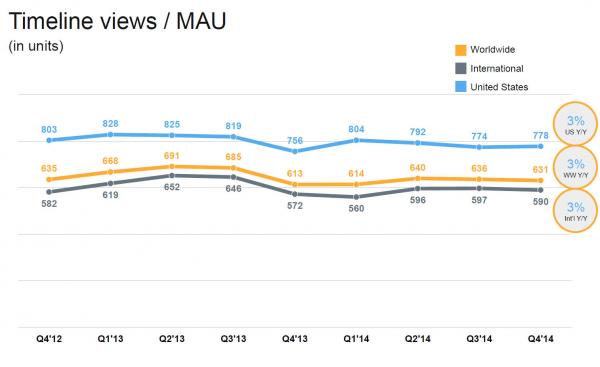 All of the above is making many wonder if indeed the user growth has finally stalled.
So what about the financials?
This is what Adjusted EBITDA looked like: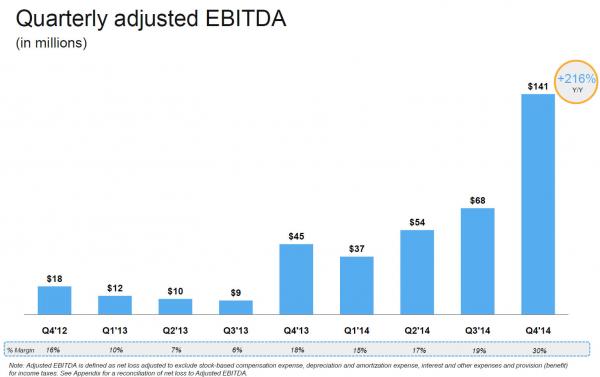 However, as with every dot com 2.0 company, the biggest value contributor was once again the addbacks that made EBITDA, and non-GAAP EPS, what they are for kneejerk-reaction purposes. In short: $267 million in EBITDA addbacks.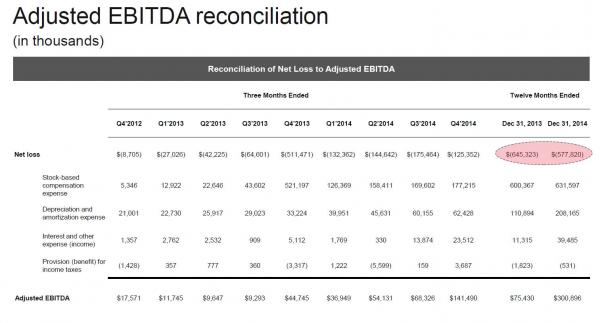 And finally, for those asking, here is the GAAP to non-GAAP reconciliation: a table only TSLA could love.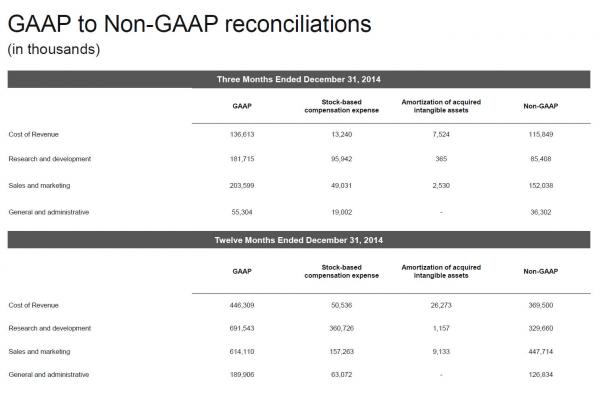 For now the algos are sufficiently confused, sending the stock tumbling at first, then spiking.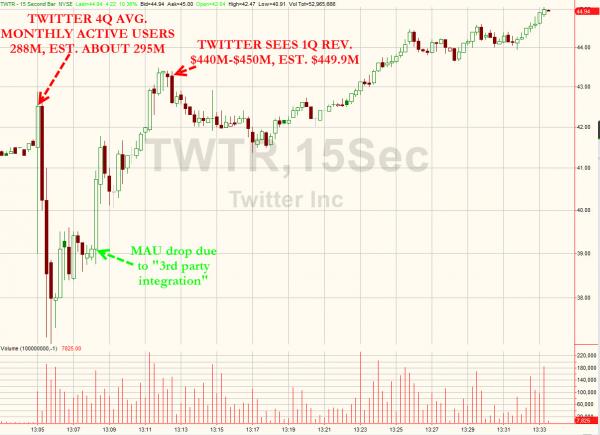 Source: Twitter